2021 WEDDING DRESS IDEAS - INTRODUCING THE NEW PHILLIPA LEPLEY BRIDAL COLLECTION
Reflecting on the beauty of the natural world, both around us and within us, Phillipa Lepley's new couture wedding dress collection is full of escapism and high-spirited joy. True to her international reputation, she has designed wedding and special occasion gowns that are steeped in the classic sense of tradition, fused with a jubilant sense of youthful new beginnings. Created out of the worlds finest fabrics, at the London atelier, the new wedding dress styles perfectly showcase the unparalleled skill that goes into creating each Phillipa Lepley wedding dress, presenting every bride planning a 2021/22 wedding with numerous options to explore.
Phillipa's endless love of the perfect pearly pink can once again be seen alongside her developing passion for soft lilacs. The pastel palette is playful but serene, presenting new ideas for brides wishing to find a fairy-tale dress with a difference.
Separate tulle overlays are a new focus for the designer, who introduces a number that are full length. They trickle down with embellishments graduating all the way to the floor. Overlays offer flexibility for the day, allowing brides to effectively enjoy two looks with one dress.
Phillipa's truly beautiful overlays are works of art in their own right. Many are adorned with flora, fauna and feather motives that have been hand-embroidered one by one. Transforming a clean dress in to a 3-dimensional picture, they evoke the wonders of vast woodlands and wild flower fields. Some have oversized, puff sleeves, adding yet another degree of feminine charm.
The beauty is in the detail within this Phillipa Lepley wedding dress collection. The level of craftsmanship that has gone into creating it is evident, particularly through the intricate embroideries. Flowers have been incorporated into many of the designs, reflective of Phillipa's growing love for the countryside, and in particular wildflowers that she grows. Her flowers of the season include stylised roses, orchids and irises with drifts of cherry blossom and fennel fern.
What may appear at first sight to be lace is in-fact delicate, hand thread-work that has been applied directly on to the tulle. Phillipa's artisan team are embroidering it themselves, piece by piece, on to the tulle.
For the fashion forward bride, there are modern wedding dresses including 'architectural dresses' that have come to life as a result of the natural draping of layers of exquisite Italian Duchesse satin. The fabrics take shape, moulded around the body in the most natural, organic way sitting over the defining corsetry. Statement collars have been structured carefully to keep their form, perfectly poised and framing the face.
Playful accessories complete the collection including jackets and even a 1950's inspired, British made umbrella made from matching fabric.
Phillipa describes a few of her favourite new wedding dress ideas from the 2021 couture collection:
"'Toulouse Stargazer' is, I believe, a truly unique creation and a picture-perfect gown that is more than ready to take centre stage. Embroidered gold stargazer lilles pop against the sugar pink canvas, and several removable button-back tops enable the bride to style her look according to her wishes – she can add giant balloon sleeves or a contrast sugar pink belt should she so desire."
"'Vienna Con Amore' is a truly unique dress unlike any other I have ever created. A bow sits elegantly across the top of the torso blending in to the bodice, with the bow creating the neckline, camouflaged in to the draped fabric beneath it. The strapless, duchess satin dress has a full skirt, and is classic yet contemporary."
"'Vienna Legato' is inspired by Snow White, with small puff sleeves and a pretty off-the-shoulder neckline. The heavyweight fabric crosses the torso beautifully accentuating the waist, perfectly contrasting with the fullness of the skirt beneath it."
"'Vienna Waltz' is a very asymmetrical dress with a gorgeous, draped collar. When I designed this I really did let the fabric flow, helping it to go where it wanted to go. The bias bodice has no seams, beneath the draped collar. Similarly, Vienna Crossover Crepe is a classic draped soft dress, with an invisible corset, where again the fabric sits in its natural position."
"Degas Dotty Anenome" is inspired by another one of my favourite flowers. It is a giant 'floc-spot' dress with puffy sleeves, dotted with lilac embroidered flowers. It is doubtlessly so romantic."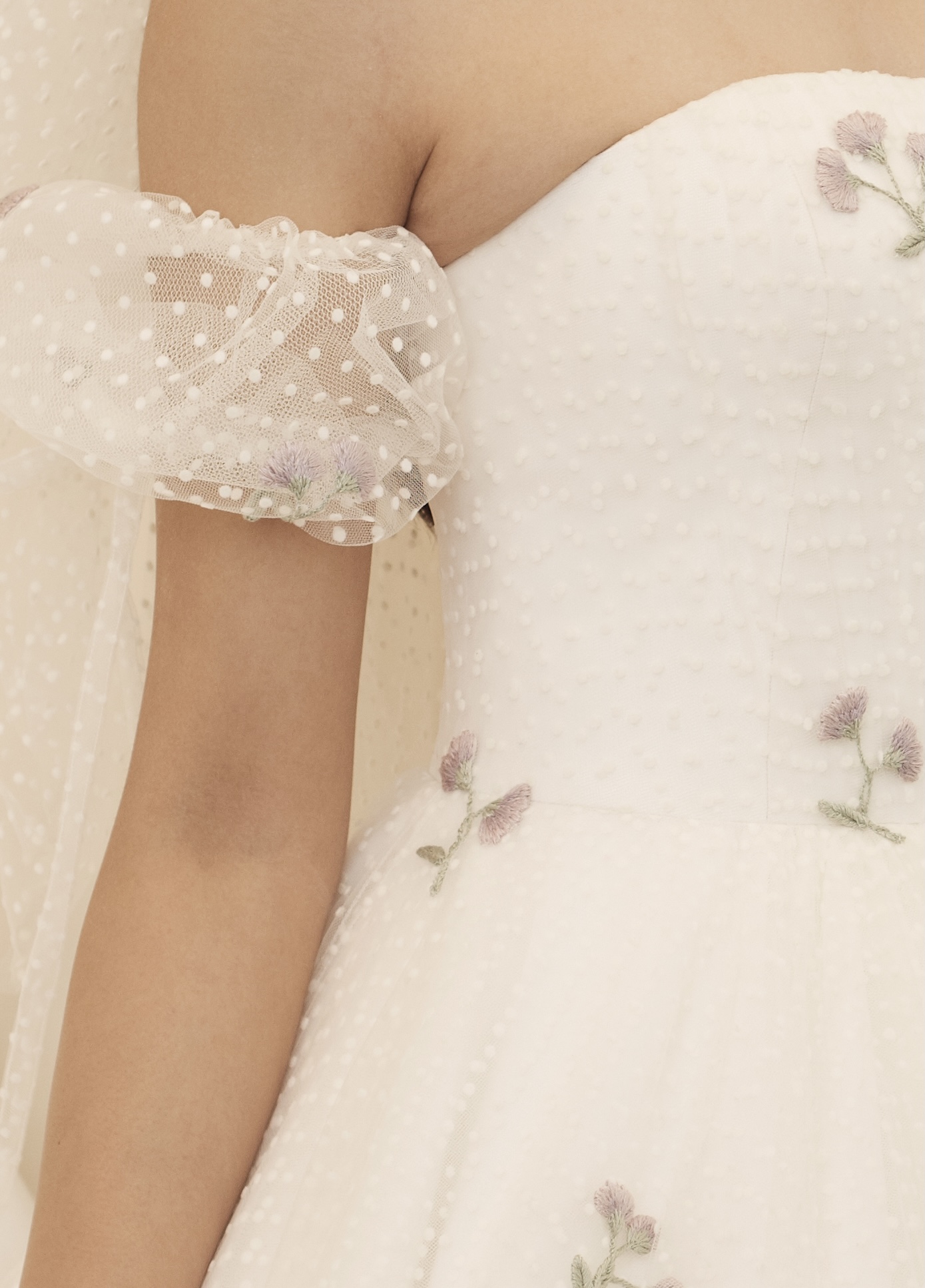 "I adore the transition between the lower part of this clean dress and it's decorative top, in 'Gina Delicata'. The high-neck and capped sleeves are so intricately woven with tiny cut glass beads."
"'Nightingale' is an architectural, 50's inspired dress with a difference! The beautiful satin fabric frames the body at the front, in an apron style, and goes in to a stunning three-pleat peplum at the back below the V-neck. I love the contrast between the beautifully simply front of the dress, which perfectly celebrates the silhouette and the shape of the bride's body, and the back which is seen when she turns around – it is so stand-out and different."
The very grand "'Arabella Orchids' is a heavily embroidered, ivory modern wedding dress covered from top to toe with a hand-sewn flower design. A picture of wildlife in abundance, the dress features stylised roses, orchids and irises with drifts of cherry blossom and fennel fern. A touch of sparkle, a 100-inch train, a striking high-neck and elegant long sleeves result in an ethereal yet contemporary timeless look."
"'Toulouse Pink Roses' is a magical dress. With pink beading across the dress, jacket and matching umbrella, it makes my heart sing! The jacket is just the right length so you can still clearly see the bride's defined waist. I love the shape of the umbrella and the bamboo handle. I have adored and collected umbrellas for many years, I am fascinated by their shape and ingenuity, and I love the idea of a delicate amount of drama, reminiscent of the Regency era, that they could bring to a bride on her wedding day. The umbrella was made by hand here in England with fabrics that were made exclusively for our atelier in Italy. To me the beading looks like a smudged impressionist painting, and it perfectly accentuates the flowers."
"Finally, 'Selina Crystal And Pearl' is a dream come true. Hours upon hours have been spent by my team of petite mains hand sewing on thousands of crystals, requiring impeccable skills. This result is jaw-droppingly beautiful and really very special indeed."
Phillipa Lepley is widely recognised as being the leading British couture wedding dress designer. Her wedding dress shop in London, Chelsea, has over 50 dresses, all of which have been made in England from start to finish at her atelier.