COUTURE WEDDING DRESS: AUTEUIL CREPE
Undeniably dramatic in its simplicity.
Taking its name from the Parisian village of Auteuil, Auteuil Crepe offers a stylish, contemporary look for the bride looking for understated elegance on her wedding day.
Made from the most luxuriously soft ivory silk crepe and with seaming perfectly placed to flatter, elongating lines lightly skim the body and trace the contours of a woman's shape. Cut with dramatic flare at the hem and an incredible extra long train, in the skilled hands of Phillipa Lepley and her atelier team this full skirt appears to drape effortlessly, undulating as the bride moves with a refined grandeur.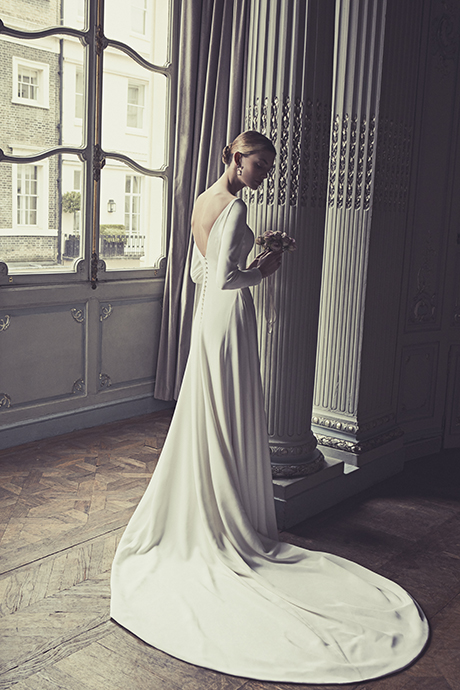 A bateau front neckline frames the collar bones before extending down to fitted, full length sleeves delicately finished with small silk covered buttons. The demure coverage granted by the refined neckline and long sleeves is balanced with a sensual, plunging low back neckline, finishing at a V point on the spine.
Featured here with a Hermione Harbutt bridal crown of delicate pearl flowers, the silk crepe of this dress has a matt appearance that gives a clean and contemporary edge.
Whilst many of Phillipa Lepley's wedding dresses are adorned with decadent embroidery and detail, an immaculately crafted design such as this is bold in its deceptive simplicity. The skill and quality speak for themselves, allowing the beauty of the bride to shine.
Phillipa says, "This dress is simply elegance personified. Its pristine lines have been so perfectly executed – the level of detail from my team really is incredible and I adore the way the silk crepe moves – heaven!"
Phillipa Lepley is widely recognised as being the leading British couture wedding dress designer. Her wedding dress shop in London, Chelsea, has over 50 dresses all of which have been made in England from start to finish at her atelier.