A COUTURE BEADED WEDDING DRESS
"Phillipa Lepley had the best service, fabric, designs and most importantly fantastic corsets!"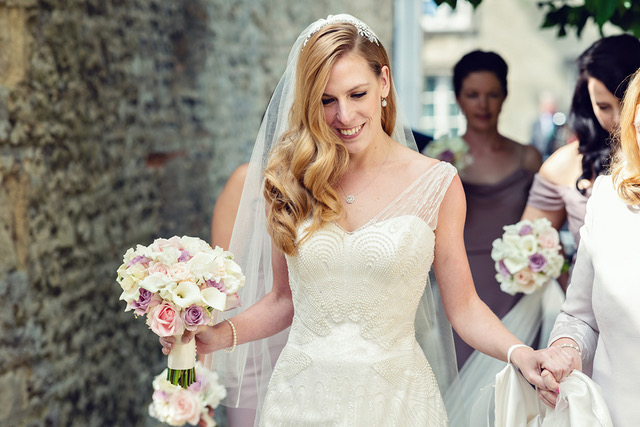 It was Phillipa Lepley's signature hidden corset that drew Caroline to the London wedding dress designer and ultimately became the reason that she bought her wedding dress from us.
Caroline had been to our neighbour in Chelsea, Catherine Walker, for a bridesmaid's dress fitting some years before and seen our shop. When it came to booking wedding dress appointments once Caroline was engaged, she came back to Chelsea to try on Phillipa Lepley dresses.
"I shopped around," says Caroline. "I booked about five different wedding dress appointments on one weekend. The way I shop for anything, whether it's a pair of boots or a watch, is by making sure I have seen or researched everything on the market before making a decision. By the end of the weekend, I felt like I had gone to every shop on my list, and had tried every style of dress. Only then was I ready to return to Phillipa Lepley to choose my dress, knowing that I was in the best hands. Phillipa Lepley had the best service, fabric, designs and most importantly fantastic corsets!"
Caroline thought that a fuller, ball-gown-style dress would suit her body shape despite not really wanting a 'meringue-style' wedding dress. She explained that she "ended up in the same big dress in every single wedding dress shop. Each time, it was almost a carbon copy of the same dress."
At Phillipa Lepley, Caroline also tried on one of our dresses with a fuller skirt. "I was going to go for it," she said. "My Dad was welling up and my Mum loved it." But then, with a little gentle encouragement Caroline tried on our Tamsin Pearl dress.
"It was a completely unique dress, I had seen nothing like in it in any other shop or at any other wedding. It had a delicate, but intricate design reminiscent of an Art Deco sunrise, which then went on to set the theme for the whole wedding at Blenheim Palace. I loved that its skirt was smaller so I could dance and get close to the people I loved on the day," said Caroline. But it was so different from what she had expected she still wasn't confident that the shape of the dress was right for her.
"I was really in two minds about choosing the Tamsin Pearl over "The Big Dress. I even booked another appointment and brought my sister-in-law with me for a second opinion. She loved it too! And after trying it on again I knew there was no other dress for me," Caroline told us.
"The team at Phillipa Lepley made me feel really comfortable about my dress choice. And they worked with me on the design to tailor it to perfectly suit me. Any fear I had of the dress not being right washed away. The changes to the design made the dress feel even more unique to me."
Caroline had a bespoke, couture dress made based on the Tamsin Pearl. The corseted gown had a sweetheart neckline and slim A-line skirt. The fitted, ivory, slipper satin base had a hand-beaded tulle overlay of ivory pearls and sequins, radiating from the bodice in an Art Deco style.
Caroline chose to add extra petticoats to the skirt of her dress to help support and hold out the beaded tulle, showing off the rays of pearls flowing from hip to hem. The ruched tulle straps of her dress were made narrower to suit her frame, sitting on the edge of the shoulder in a dramatic V-neckline at front and back.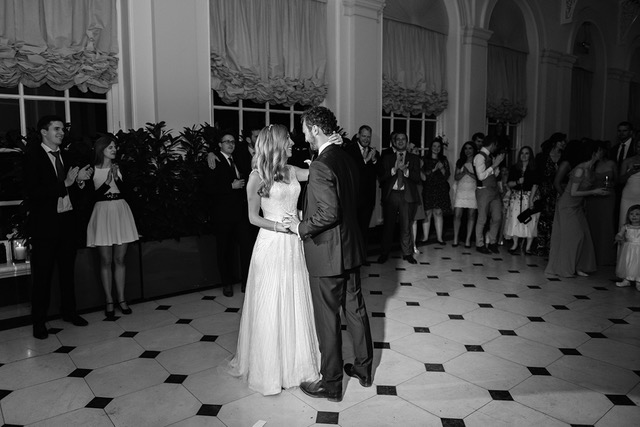 The artwork for a beaded dress of this style is meticulously planned and drawn out in our London studio, working exactly to the bride's measurements so that it complements her shape perfectly.
When Caroline put her dress on, on her wedding day in June last year she told us she felt "Overwhelmed, and like a princess! I'd spent about five hours in hair and make-up but when I put the dress on it was all go go go. It made my wedding day feel like a reality."
As he saw his bride walking down the aisle towards him, Caroline's groom James told us he was "lost for words. She was the most beautiful thing I'd ever seen." 
Photography by Kate Hopewell-Smith
Phillipa Lepley is widely recognised as being the leading British couture wedding dress designer. Her wedding dress shop in London, Chelsea, has over 50 dresses all of which have been made in England from start to finish at her atelier. To make an appointment to view the collection please click here, call 0207 590 9771 or email info@phillipalepley.com.