COUTURE EVENING GOWN: TARTAN TIED BACK
"This dress is a culmination of tradition and beautiful craftsmanship."
The strong, geometric lines created with this bold tartan print have been expertly handled by the Phillipa Lepley Team – skilfully sculpted into draping at the neckline and the placement manipulated to ensure a virtually seamless pattern throughout this striking evening dress.
The structure of the bodice comes from the signature Phillipa Lepley corset hidden within, with the soft and supple cotton tartan moulded to the female form before softening with sculptural drapes at the front neckline and delicate 'tagliatelle' width straps tied in feminine bows at the shoulder. A low scooped back neckline adds an elegant but sensual feel to the silhouette.
The full skirt, smooth through the waist, falls in undulating folds, creating depth and layers to the tartan lines in its rich emerald and ruby tones. Phillipa has played with the direction of the tartan print further with an added tie back overlay finished with a hand tied bow at the back waist.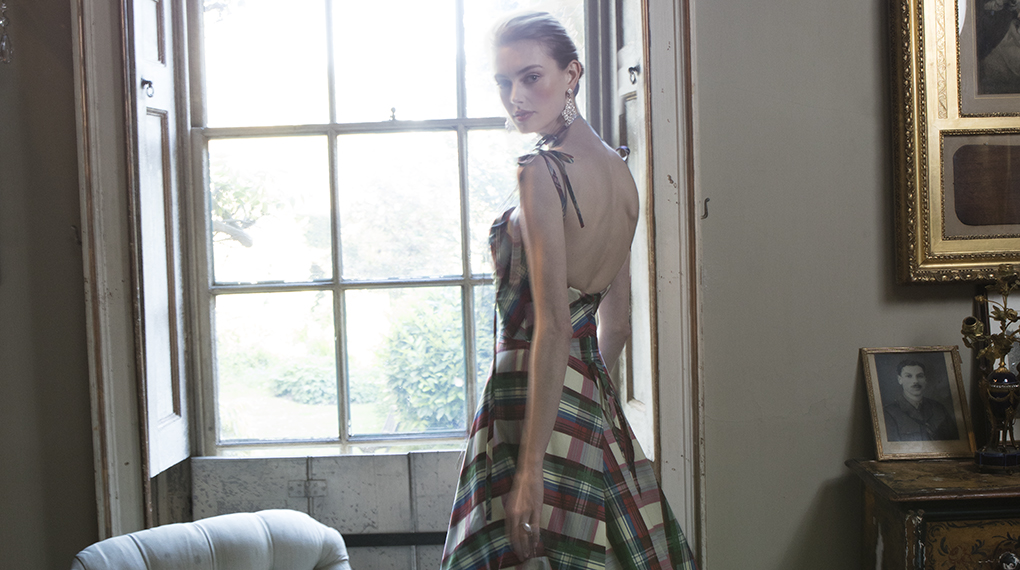 The clever and inspired treatment of this cotton tartan in an evening gown is utterly unique and completely timeless.
Phillipa says, "This dress was one of my final designs for this latest collection and it is most definitely one of my favourites. I fell in love with the muted vintage colours in this Italian printed cotton tartan the moment I saw it. Naturally I had to design something for it, loving the apron tie back, flat front skirt and very very low back. Not to mention the tagliatelle ribbons tying up the straps and apron back!"
Phillipa Lepley is widely recognised as being the leading British couture wedding dress designer. Her wedding dress shop in London, Chelsea, has over 50 dresses all of which have been made in England from start to finish at her atelier.