COUTURE WEDDING DRESS: CHAUSSON
"This dress really is a magnificent piece of couture."
'Chausson' is a pristinely- simple, bias cut silk wedding dress with elegant drapes of fabric drawing the eye to the neckline and face. Demure yet sensual, it is made from the most luxuriously soft silk crepe that 'just lays' on the body and flatters the figure, skimming and flowing around a woman's curves. It is infinitely timeless!
The stunning fabric used in this couture gown speaks for itself, brought to life with skilled tailoring and design from Phillipa Lepley's atelier bridal dress team.
The intricacy of the tailoring in this wedding dress can be seen in the way the silk crepe has been manipulated into a stunning bias cut, slim silhouette. The wedding dress cascades down into a beautifully-shaped train, maintaining a bridal feel to this chic and refined dress without overpowering the fitted style of the dress.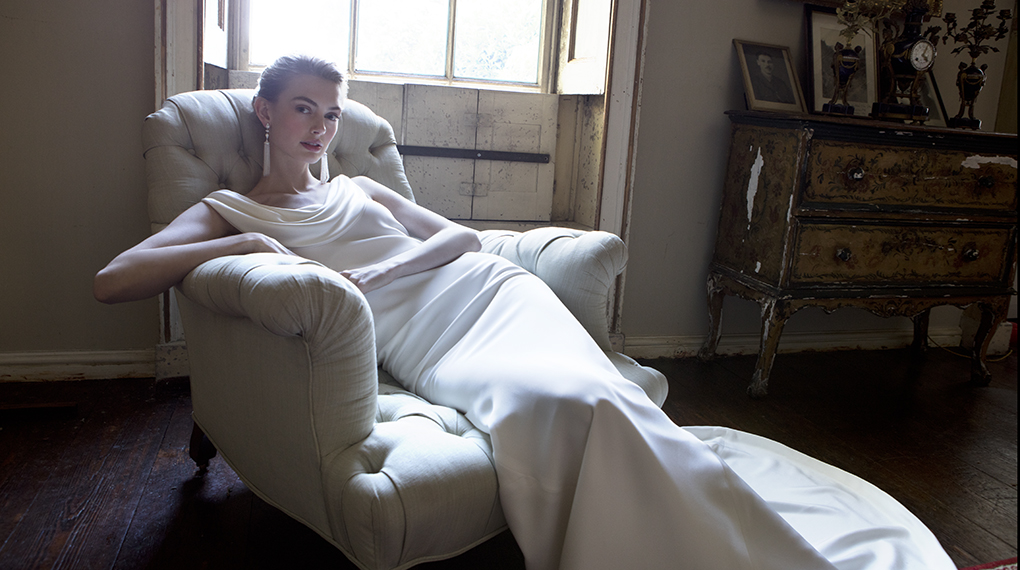 The centrepiece of this wedding dress is the wonderful décolleté scoop of the neckline where a dramatic slipper satin soft cowl has been cleverly draped at the front and the back of the neckline. For added drama, Phillipa has deepened the plunge of the cowl at the low back neckline to showcase the beauty of the feminine figure.
This dress has been created to highlight the figure in its most pure form, without a corset or petticoats. The drapery of the thick silk crepe and the delicate tailoring is all that is needed for the dress to fall and fit in all the right places.
Phillipa says, "What I love so much about this dress is the way the fabric has been so perfectly manipulated to make the dress flow and look as though it is one piece of material. It really is a magnificent piece of couture."
Phillipa Lepley is widely recognised as being the leading British couture wedding dress designer. Her wedding dress shop in London, Chelsea, has over 50 dresses all of which have been made in England from start to finish at her atelier.