COUTURE WEDDING DRESS: FLEURETTE FORGET-ME-NOTS
"This dress is truly a magnificent show of the detailed work that goes into creating a Phillipa Lepley couture wedding gown"
Fleurette Forget-Me-Nots wonderfully highlights wedding dress designer Phillipa Lepley's love of fine embellishments and showcases her and her team's incredible skill in creating wedding dresses that are perfectly proportioned. The debutante-style of the dress is a classic bridal shape with an underlying tone of pure fairytale charm.
A sheer embroidered tulle top lies over a corseted, strapless silk bodice demurely covering the décolletage and shoulders, and echoing the feminine shape of the collar bones. The strong silhouette of the bodice is created with our signature hidden corset, moulding to the bride's figure and creating a slender shape at the waist. The defined waist shape is further highlighted by its contrast to the full, frothy and romantic tulle skirt.
This voluminous masterpiece is created using layer upon layer of the finest pale ivory tulle, delicately gathered into the waist to create a truly dramatic centre point from which the skirt flows. The top, final layer of tulle has been intricately embroidered with hundreds of delicate forget-me-not flowers of silk organza, white and ivory beads and delicate sequins. Each motif has been carefully and thoughtfully placed before being hand-sewn on. Gentle beading cascades down the dress's bodice onto the skirt, designed to be most intense under the bust to the contour the shape, adding to the spectacular craftsmanship that went into creating this dress.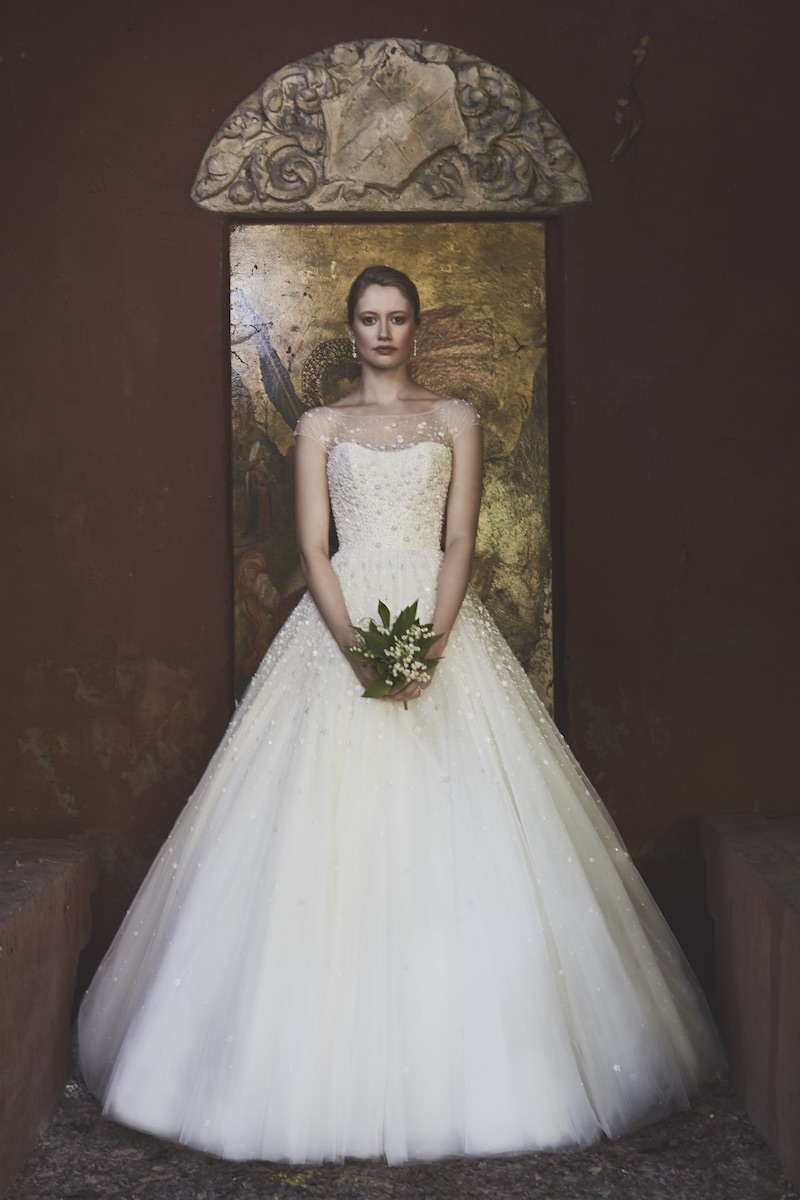 Phillipa says, "The layers upon layers of tulle paired with dramatic beading and delicate embroidery are truly a magnificent show of the detailed work that goes into creating a Phillipa Lepley couture wedding gown."
Phillipa Lepley is widely recognised as being the leading British couture wedding dress designer. Her wedding dress shop in London, Chelsea, has over 50 dresses all of which have been made in England from start to finish at her atelier.