COUTURE WEDDING DRESS: TOULOUSE SUFFOLK BROCADE
"The Toulouse Suffolk Brocade is all about the detail"
This Toulouse Suffolk Brocade dress is the type of wedding dress that keeps getting more beautiful the more closely you look at it.
At first, brides will be drawn in by the soft sweeping neckline with classical one-inch straps that sit straight on the shoulders; the simplicity of the initial silhouette is timeless. The straps are finished with elegant, knotted bows at the back of the corseted bodice.
The eye will then be drawn to the silhouette – the skirt is full and tightly gathered into the waist to create a full and dramatic shape that beautifully contrasts with the cinched in shaping of the Phillipa Lepley corset. The train length is perfectly balanced with the dramatically cut skirt.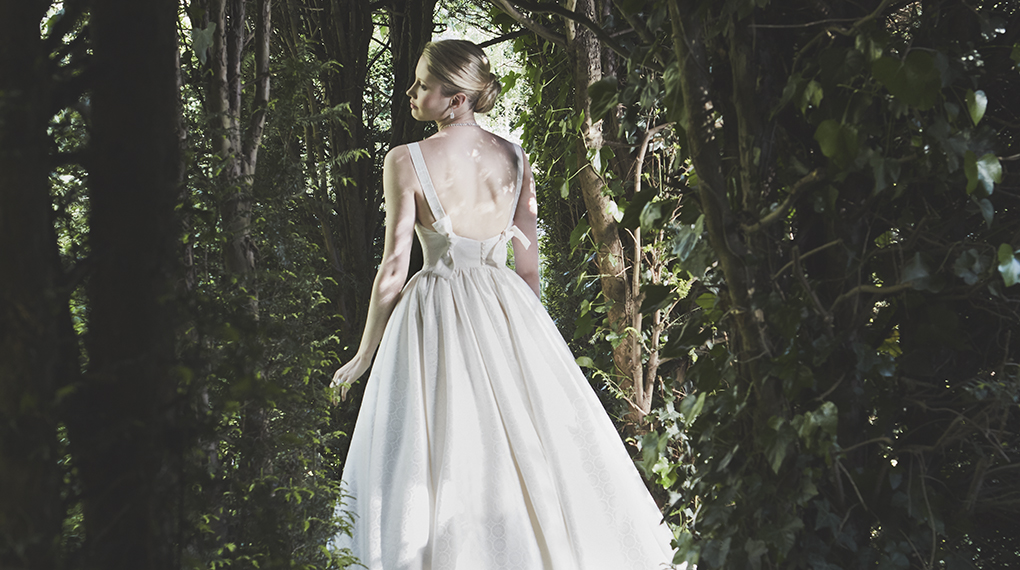 But the piece de la resistance of this gown is the beautiful Suffolk brocade fabric. Phillipa Lepley has really pushed the boundaries in terms of technique in the making of this collection, and the quality of fabrics is also second to none. The brocade has been woven with a pretty geometric design and the subtle changes in the texture, light and shade of this cleverly woven pattern creates a lustrous, unique finish to this special fabric. When you are close to this wedding dress you can see the intricacy of the pattern that runs throughout the material, creating an almost renaissance element.
As with all of Phillipa Lepley dresses, the true artisanship can be seen in the details. The atelier team has worked tirelessly to ensure that every aspect of the gown has been thought of and considered amongst the wider elements of the dress.
Phillipa says, "The Toulouse Suffolk Brocade is all about the detail. The divine brocade embroidery throughout the dress is absolutely spectacular."
Phillipa Lepley is widely recognised as being the leading British couture wedding dress designer. Her wedding dress shop in London, Chelsea, has over 50 dresses all of which have been made in England from start to finish at her atelier.