COUTURE WEDDING DRESS: VIENNA CLASSIC WOODLAND FLOWERS
"The perfect balance of simplicity and refined elegance …" Phillipa Lepley
'Vienna Classic Woodland Flowers' highlights Phillipa's love of exquisite embroidery and wild meadow flowers, while showcasing her skill in creating couture wedding dresses that are a work of art.
This timeless dress has a soft sweeping corset neckline with a hand-embroidered high-necked tulle overlay and cap sleeves, finished with delicate covered buttons from the top of the bodice to the waist at the back. The embroidery features gorgeous floral details inspired by country meadows – as is apparent throughout this entire new collection.
As with all Phillipa Lepley hand-embroidered wedding dresses, extensive work went in to sampling each flower in the design, to ensure it was the most beautiful depiction before work began on bridal gown. The artwork was carefully drawn out and designed to perfectly enhance the dress.
Phillipa says: "The delicately embroidered tulle is hand-stitched to perfectly recreate each wild meadow flower that has previously sparked such joy for me. This impossibly elegant dress epitomises the unparalleled artistry that goes into each and every one of our dresses, mastered by the petits mains at our atelier."
The luxurious duchess satin bodice enhances the female figure by incorporating one of Phillipa Lepley's signature hidden corsets.  Meanwhile, a satin chiffon overlay on the A-line skirt silhouette brings a beautiful fluidity to the dress, so the bride can move and glide without feeling restricted.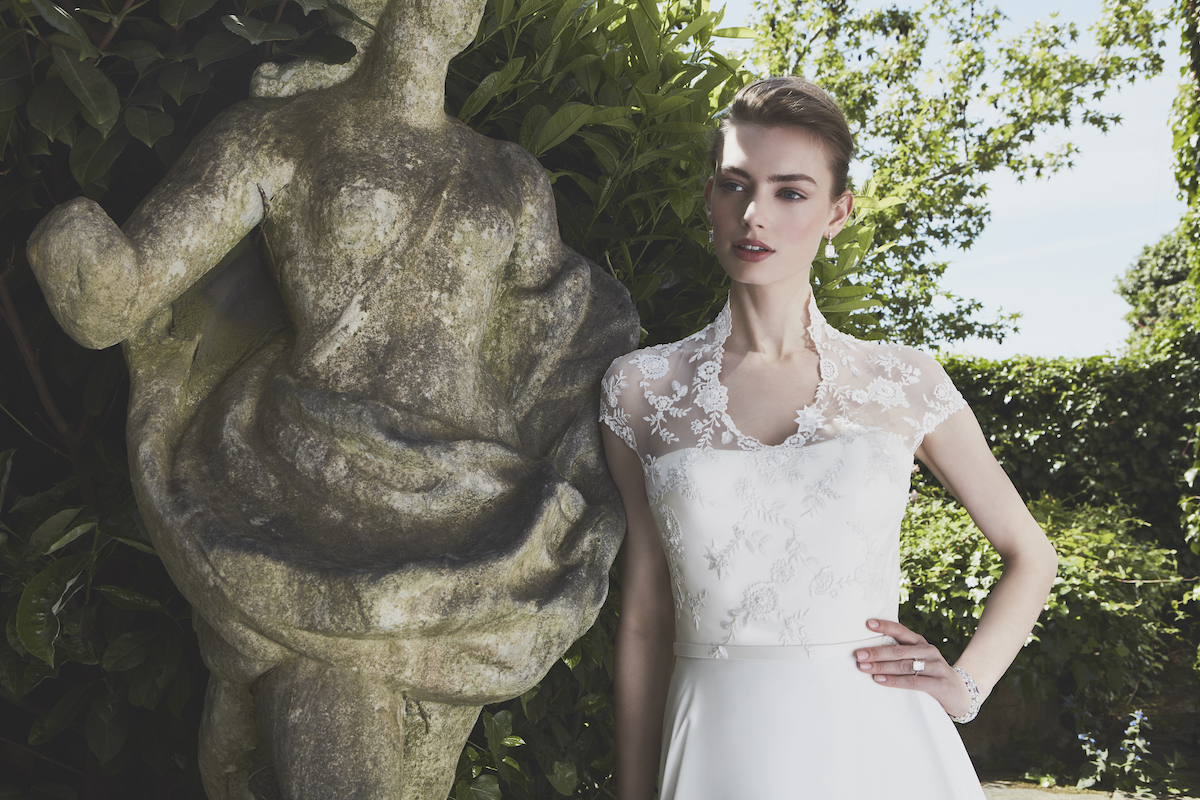 To complete the look, Phillipa and her team have designed a narrow belt to draw attention to the shapely waist created by the hidden corset. Also lightly embroidered, the thin belt adds a touch of glamour to the dress.
Phillipa says, "This dress is the perfect balance of simplicity and refined elegance. The luxuriously soft satin just lays on the body, flattering the figure and talking magically to a bride's curves, while the decorative embroidered overlay adds a bit more wow to an otherwise understated dress. "
Phillipa Lepley is widely recognised as being the leading British couture wedding dress designer. Her wedding dress shop in London, Chelsea, has over 50 dresses all of which have been made in England from start to finish at her atelier.