COUTURE WEDDING DRESS: MARIELLE MAGNOLIA PEONIES
"This gown is a perfect example of the level of art that goes into creating our couture dresses."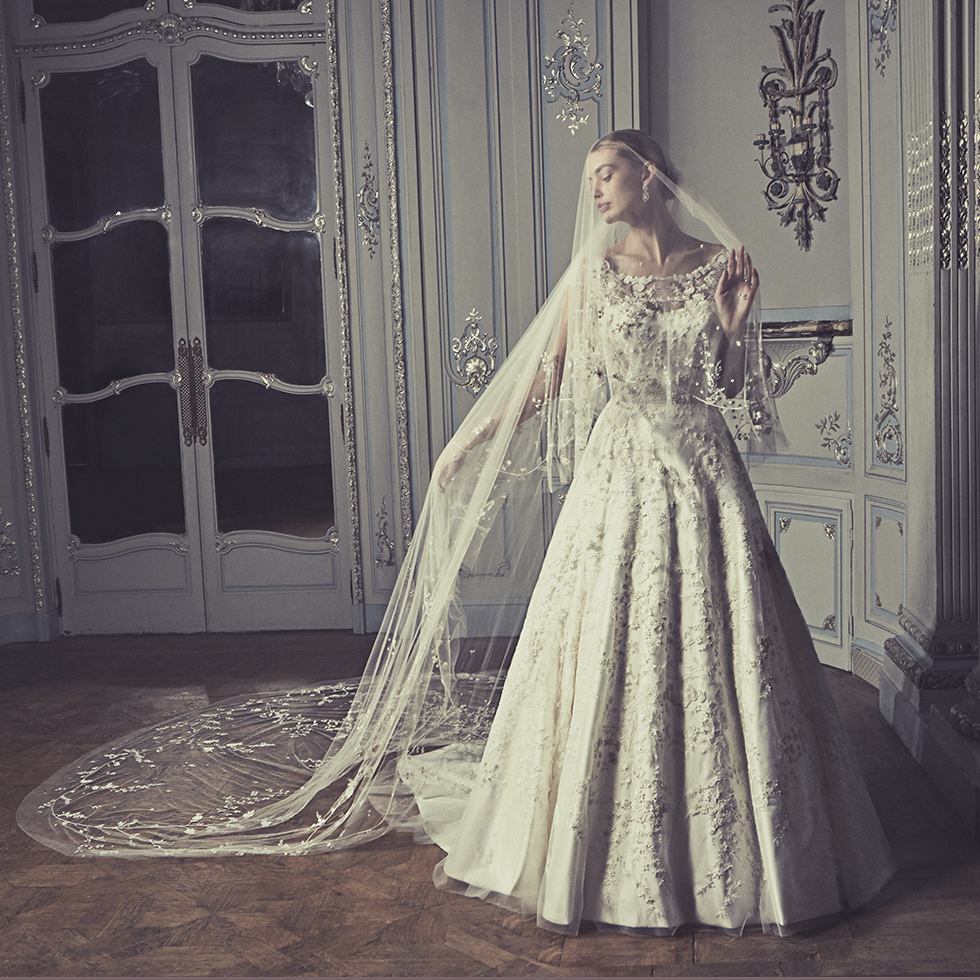 This couture wedding dress is simply a work of art. It features a stunning, symmetrical design of dancing hand-embroidered flowers that cover the gown and a classic soft scoop décolleté neckline. And while the A-line shape of the wedding dress itself is elegant but simple, the all-over floral embroidery elevates it into a very regal, grand, bold design.
The delicate, unique, hand-embroidered tulle overlay lies over a generous satin base. Phillipa's pretty, detailed flower choices of Magnolias and Peonies make this wedding dress so feminine and timeless. Gorgeous French Knot embroidery stitches give texture and depth to the embroidery; tiny and beautiful and enhanced with a combination of shimmery pearls and matt seed beads.
Phillipa and her expert atelier team meticulously design and position each flower to ensure a perfectly symmetrical design that follows the cut of the dress. Once designed, each flower is carefully hand-stitched onto the tulle. The neckline, sleeves and hem are also finished with a tiny floral edging on fine, sheer tulle. It is thanks to this intricate embroidery and attention to detail that the dress becomes such a masterpiece – it is as beautiful from a distance as it is up close.
Phillipa says: "This collection we've focused on lighter all-over embroideries, compared to the heavier ones in our last collection. This gown is a perfect example of the level of art that goes into creating our couture dresses."
To complete this majestic silhouette, the dress has been designed with a two-metre long train. And, as with most of Phillipa Lepley's couture wedding dresses, the satin bodice includes her iconic hidden corset.
To complement this regal gown, Phillipa has designed an intricately detailed silk tulle veil with delicate floral embroidery scattered around the edging.
"This is one of my favourite gowns this season," says Phillipa. "The classic 'fit-for-a-queen' dress and its accompanying silk veil is absolutely a stand-out piece among the collection."
Phillipa Lepley is widely recognised as being the leading British couture wedding dress designer. Her wedding dress shop in London, Chelsea, has over 50 dresses all of which have been made in England from start to finish at her atelier.