NUDE MESANGE ZIBELENE
"A perfectly clean couture dress that really shows off the female form in the most graceful way…"
'Nude Mesange Zibelene' is a beautifully clean, ivory wedding dress. It is the epitome of elegance, offering the right amount of structure with freedom to move, for gliding up the aisle and swirling around the dance floor.
The classic 'bateau neckline' is on-trend but timeless. It is perfectly positioned at exactly the right height for each individual bride to ensure it frames their collar bones and elongates their neck, contrasting with a beautiful 'V' at the back.
There is an internal signature Phillipa Lepley corset underneath the Zibeline torso – a characteristic that the dress designer is famous for. Though the corsets dramatically reduce the size of and enhance the shape of the waist, they are completely invisible to the eye and they will be unnoticed by the bride on the day.
The structured bodice sits above a Zibelene skirt with wide box pleats at the centre of the back, neatly tapering down in to a dramatic long train.
Below the dress has been styled with a 'Dotty Tulle Ribbon Belt' and 'Rose Style Top'. The high neckline and the full-length fitted sleeves of the top are covered with floral embellishments organically placed over the body and forearms. The embellishments have been accentuated with scatterings of pearls and sparkling crystals. As with all Phillipa Lepley couture wedding dresses, the embroidery and embellishments can be specifically placed in a bespoke way for each bride, to create the perfect picture.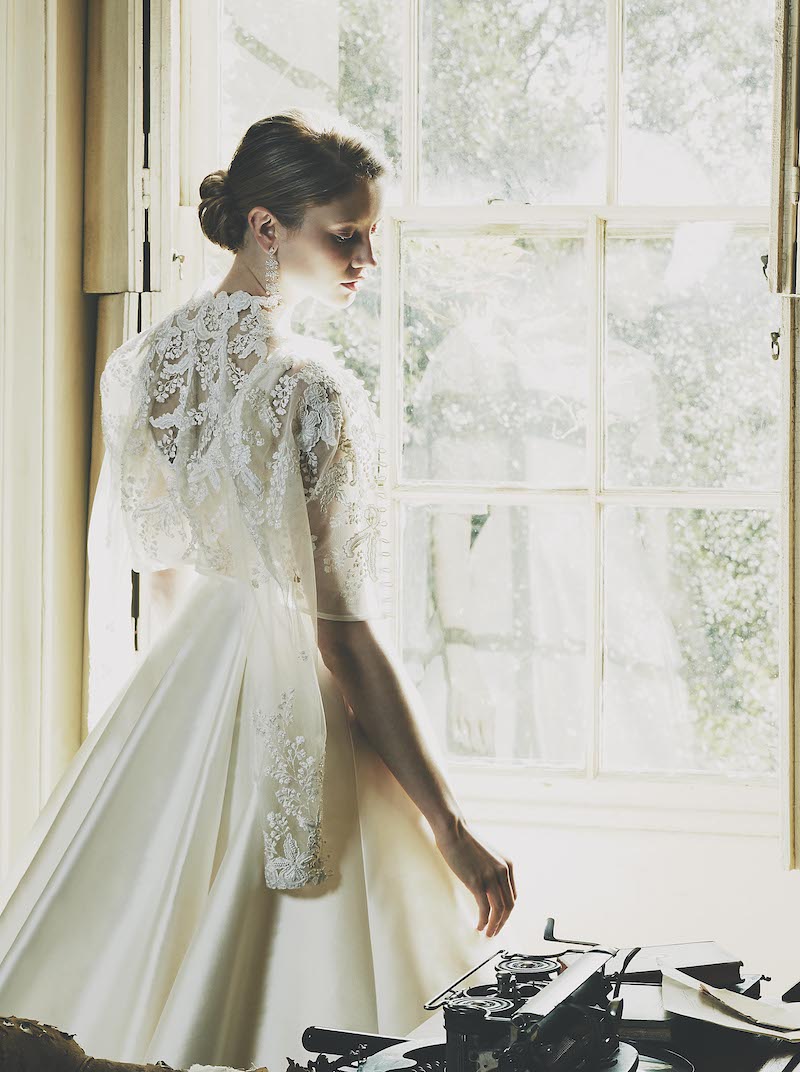 Phillipa says, "The bride's face absolutely shines in this dress! The most breath-taking thing about it is the silhouette. It really shows off the female form in the most graceful way."
"This dress is like a clean sheet of paper that is so perfectly structured and formed that it is astoundingly pretty. The perfectly clean, crisp zibeline material is absolutely stunning either on its own or worn underneath an embroidered top. The dress lends itself so well to being altered for the ceremony or the evening celebrations."
"Clean couture wedding dresses such as this take hours upon hours to make in our busy Chelsea atelier. There is absolutely no room for error – every single crease must be perfectly concealed. I call the desired look the 'spray on effect' – that level of fit is so hard to achieve."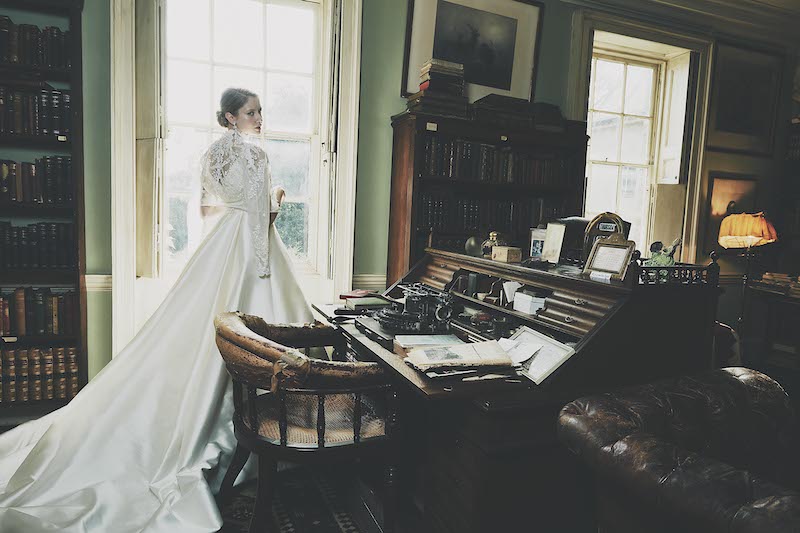 Phillipa Lepley is widely recognised as being the leading British couture wedding dress designer. Her wedding dress shop in London, Chelsea, has over 50 dresses all of which have been made in England from start to finish at her atelier.