THE PHILLIPA LEPLEY SPECIALIST CORSET
A corset is the essential foundation to every Phillipa Lepley wedding dress. The designer has become recognised globally for this specific feature in her dresses, with a reputation of enhancing every bride's figure creating the most beautiful silhouette.
Phillipa and her team of seamstresses have fine-tuned the design and production of their corsets over the last thirty years, constantly adjusting the process resulting in unbeatable results. Each custom-made corset is specially engineered and has the ability to take off an extra inch at the waist, to push the bust slightly higher or make it slightly larger, or to add more 'curves' giving smaller girls more of a defined waist.
Every bespoke corset is a work of art. Although it may seem like a simple concept, it is the most complex and time-consuming part of the creation of a Phillipa Lepley dress.
To create a corset, the fittings team first measure the bride. The right amount of bust padding is identified and used from the start, which will be inserted into the corset so she will not need to wear a bra.
The pattern cutter in the atelier then creates a paper pattern of the bride's body and the seamstresses sew up a mock up (calico toile) of the corset in a basic fabric. Through two calico toile fittings, the corset is tweaked by the millimetre, to create an exact mould of the shape that the bride would like her torso to be.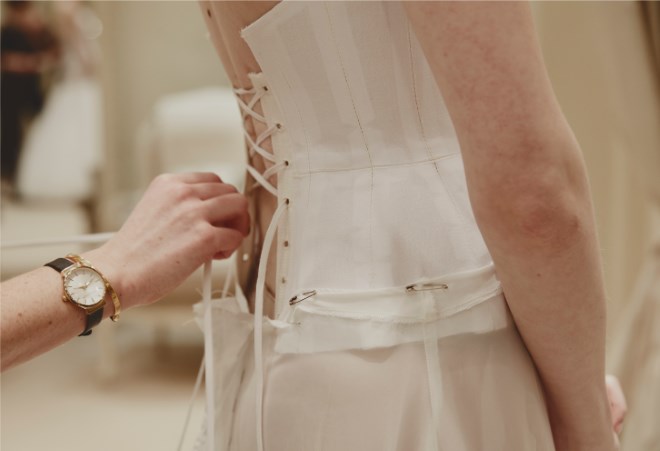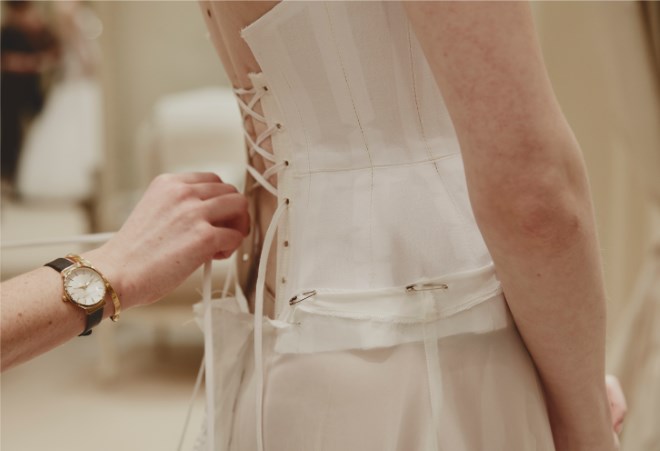 Phillipa Lepley is widely recognised as being the leading British couture wedding dress designer. Her wedding dress shop in London, Chelsea, has over 50 dresses, all of which have been made in England from start to finish at her atelier.
SaveSave
SaveSave
SaveSave
SaveSave
SaveSave
SaveSave