REAL BRIDE: A FLUID SATIN CHIFFON AND HAND BEADED FRENCH LACE WEDDING DRESS
"Of all the shopping experiences I've had, Phillipa Lepley was above and beyond" Abbie
It was over eight years ago that our beautiful real bride Abbie first experienced Phillipa Lepley's couture wedding dresses when she visited the Chelsea bridal store with her sister in law who was getting married. Phillipa Lepley stayed at the front of Abbie's mind and when she got engaged she came to the wedding dress shop for her own gown.
"Of all the shopping experiences I've had, Phillipa Lepley was above and beyond. It really felt like someone was looking at your shape and making a wedding dress for you, rather than having to fit into a dress that's already made," Abbie says.
More than just the completely bespoke element of Phillipa Lepley wedding dresses, it was the quality of the material that also stood out for Abbie.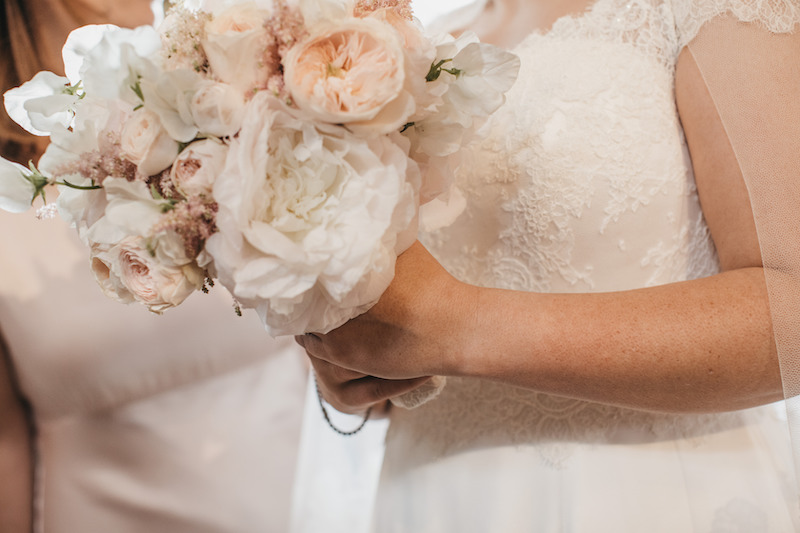 "The fabrics in other wedding dress shops just weren't as lovely, especially in terms of colours. I found warmer colours suited me better but other shops weren't so forthcoming about me customising their dresses to be right for me. At Phillipa Lepley the approach is completely different."
When Abbie first came to the wedding dress shop she tells us "I had an idea of what I thought would suit me, as I have curves, but I didn't know how I was going to mix a classic bridal look with something light and practical. I didn't want to be dragging a huge weight of a dress around."
It was really important to Abbie that she could "dance around like a mad fly on the dance floor!" So the couture team created a bespoke wedding dress with a full but fluid satin chiffon skirt cut with lots of movement and undulation. The skirt lightly rippled as Abbie walked, the sheen of the satin chiffon catching the light and adding depth and volume to the skirt.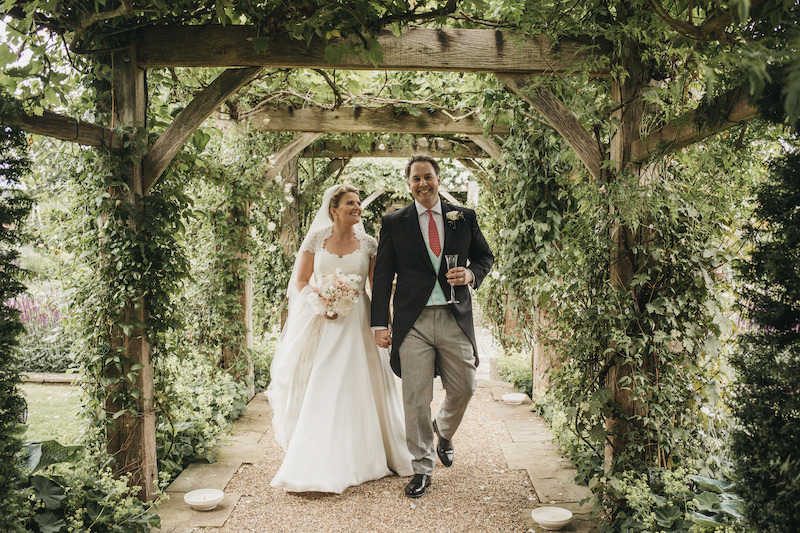 Abbie's Phillipa Lepley corset was created for her, and then carefully fitted to her over multiple fittings – the sweetheart neckline refined to the millimetre and drawn onto Abbie in her Toile Fittings.
The lace bodice of Abbie's dress was designed to complement her silhouette with a diamond front neckline sitting perfectly over the duchess satin bodice, before extending to a regal high back neckline and cap sleeve all delicately finished with a scalloped lace edge.
Phillipa Lepley's atelier team skilfully worked with two different laces within the bodice of Abbie's dress – expertly and seamlessly embroidering them together to create a completely unique design. Abbie was able to work closely with our atelier team in her fittings to determine the exact spacing and design of the lace motifs – each positioned thoughtfully to give the desired coverage and finished look.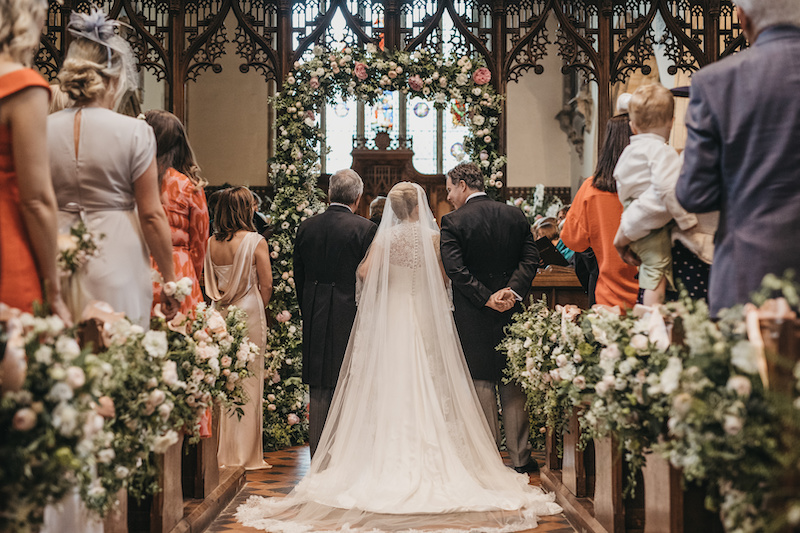 "The team was very good at selecting different laces and pining them to the bodice on me and working out how many levels of lace that I needed to cover my arms and back before sewing them on," says Abbie.
"We talked a lot about the neckline. I didn't want to look 'matronly' or for the dress to be too revealing and having a cap sleeve meant I didn't need to wear a top over the dress for the church so I could enjoy the dress as it was meant to be for the full day," she says.
With Phillipa's guidance, the lace of the bodice was extended to finish below Abbie's waist to perfectly flatter her exquisite silhouette, defined by the Phillipa Lepley Corset within.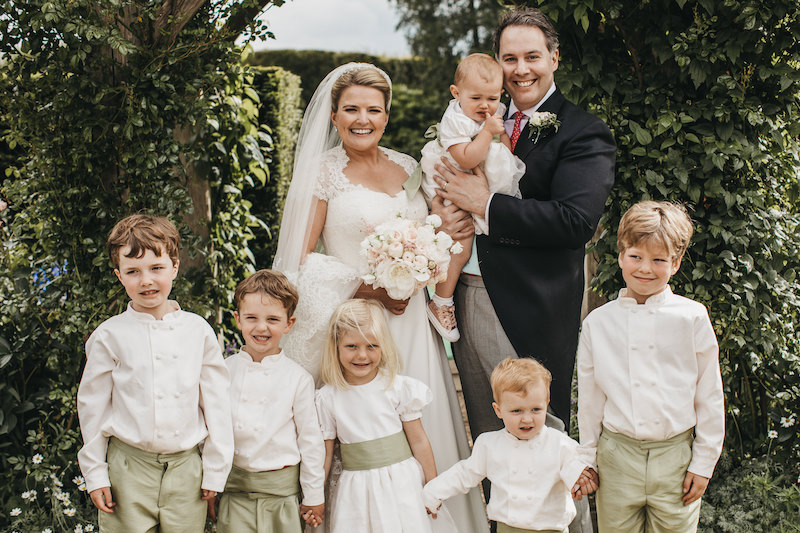 "Phillipa came to one of my fittings and she understood exactly what I needed to make the wedding dress perfectly flattering, she's such a valuable part of the experience. That really made it for me", says Abbie.
Abbie's dress was hand beaded in our London atelier with a sumptuous scattering of pearls, crystals and seed beads to bring a sparkle and lightness to the dress that complimented Abbie's glowing complexion and blond colouring perfectly, and carried her dress through to the evening celebrations seamlessly.
"On my wedding day I felt very calm as my sister in law laced me up. The wedding dress was very comfortable. It fitted like a glove and was so beautifully packed. It came with an extra lace for the corset and a little blue ribbon sewn into the dress. Everything had been thought of so my morning wasn't stressful at all."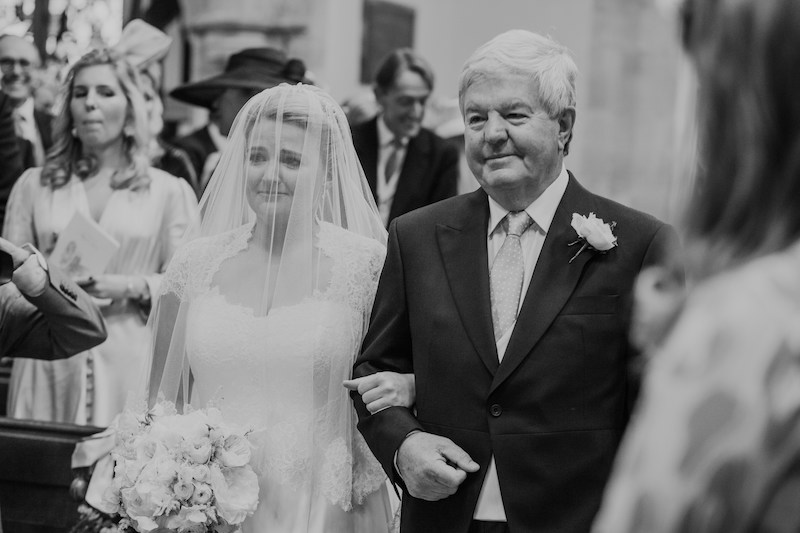 The French corded lace from Abbie's dress bodice was taken through onto her two, tier silk tulle veil also. The wide, 'Buttercup' lace scallop was appliquéd around the full circumference of her veil – a soft, romantic and completely timeless bridal look.
Abbie tells us: "The veil was a big part of the dress for me, the large scallop lace edge made it for me and when I put it on that's when my dad started crying! He's quite hard core so it was a nice surprise to see him emotional. It's usually my groom who cries but I teared up when I walked down the aisle too and he was just brimming!"
Photography by hajley.com
Phillipa Lepley is widely recognised as being the leading British couture wedding dress designer. Her wedding dress shop in London, Chelsea, has over 50 dresses, all of which have been made in England from start to finish at her atelier.