REAL BRIDE: POPPY'S DUCHESS SATIN WEDDING DRESS
Recent bride Poppy discovered Phillipa Lepley Wedding Dresses when she lived nearby in Fulham, and she used walk by and look at the dresses through the window.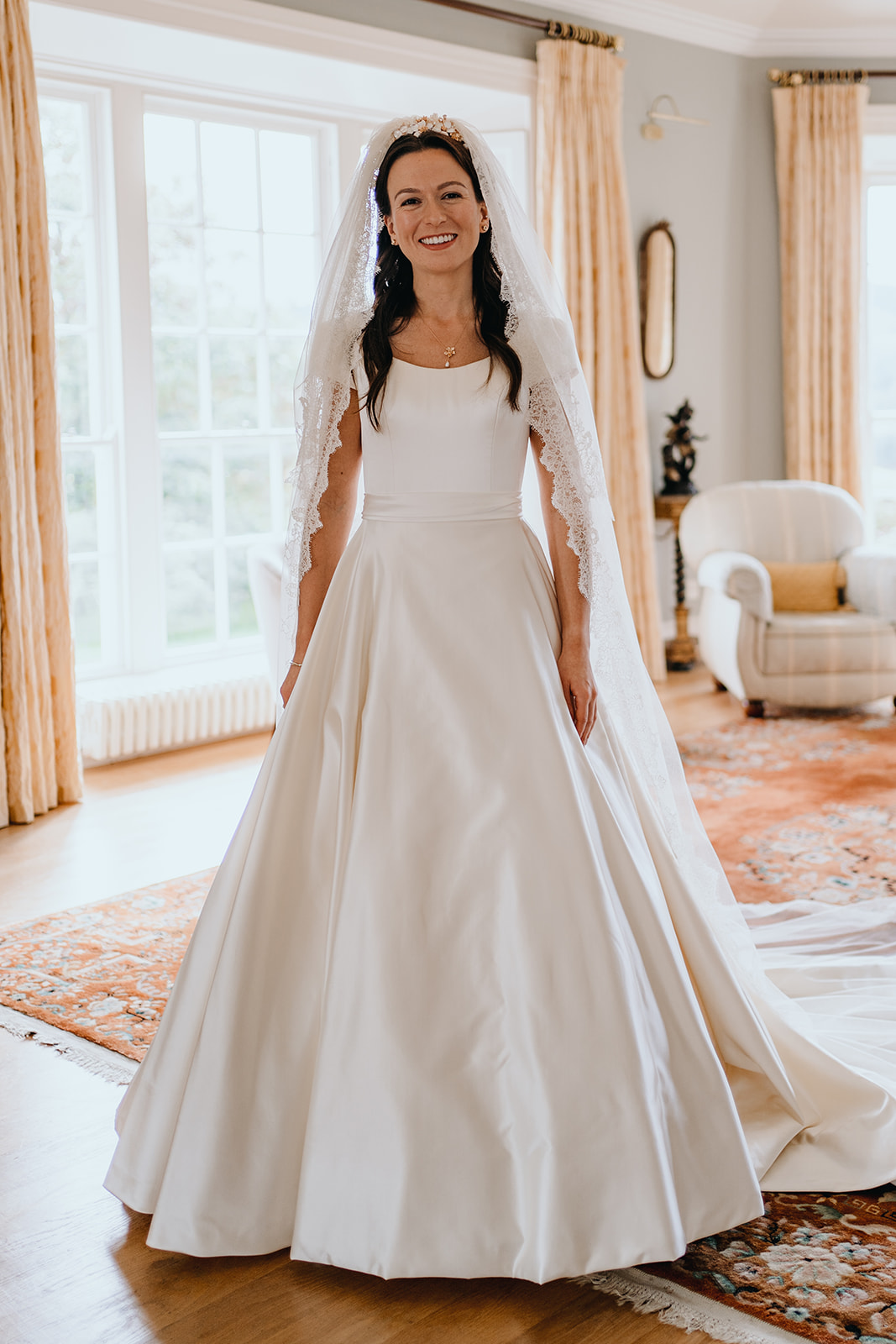 Fast-forward to when she got engaged – she scheduled an appointment and went in to try some of the samples in the Summer sale (2019). From here she was able to get a clear idea of the style she liked, however the samples were not the right size. "I tried on a silk satin style with puff sleeves, which I loved, and Mum thought it suited me perfectly. We decided to get this style made to measure, and we added a satin sash around the waist tied into a bow."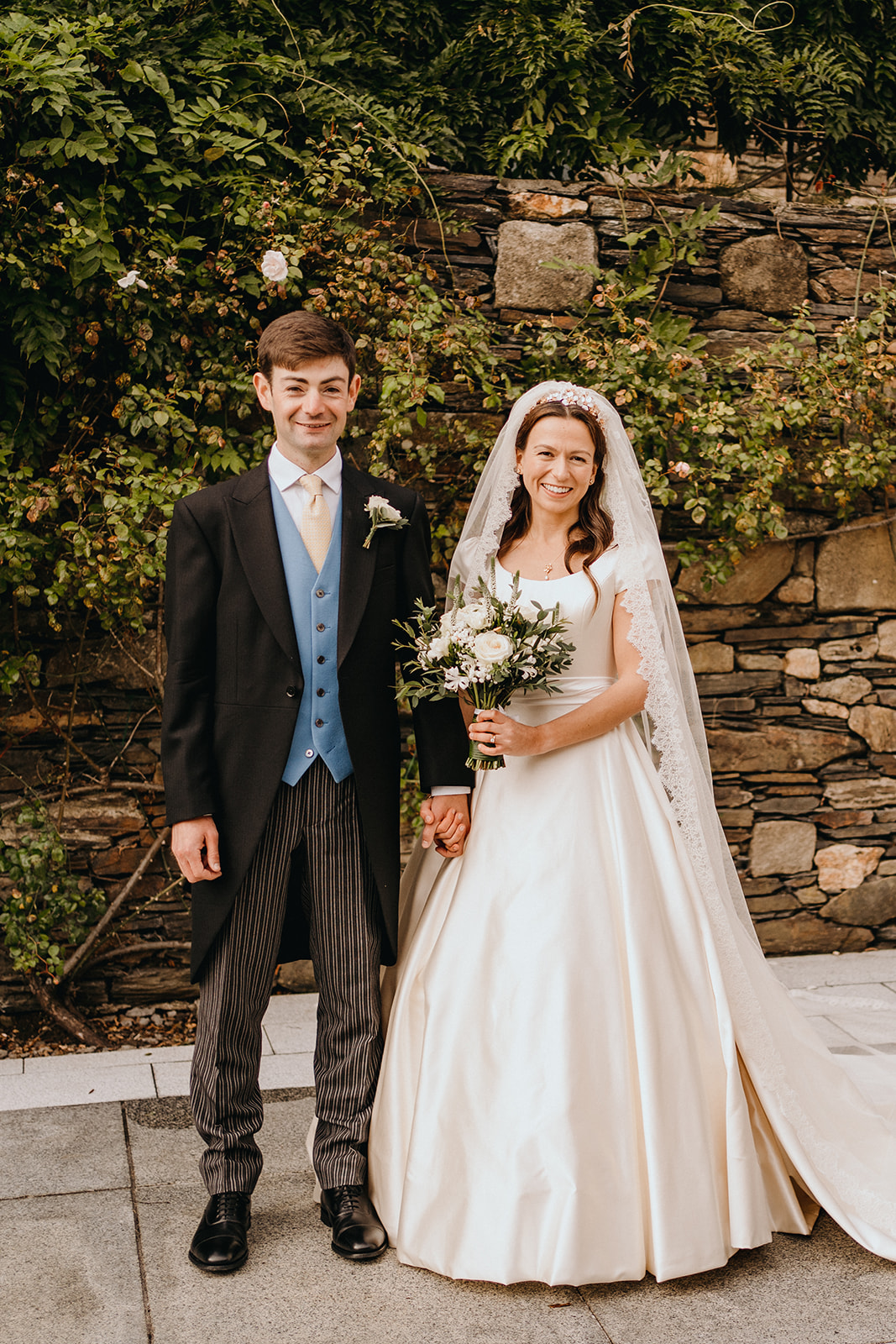 Poppy describes the fittings process: "The team had great attention to detail. In the early fittings every inch of my body was measured. Photos were also taken to understand my natural posture, which made sure the dress fit perfectly. The team spent a lot of time making sure the proportions of the dress were balanced with my body. A couple of fittings were focused on the neckline – a lot of time and effort was put into getting it just right – making sure it wasn't too low, for the church, or too high. Other fittings were spent on getting the puff sleeves of the arms in the most flattering position. Walking in the skirts and 'sit tests' were also key, to make sure that I would be comfortable on the day."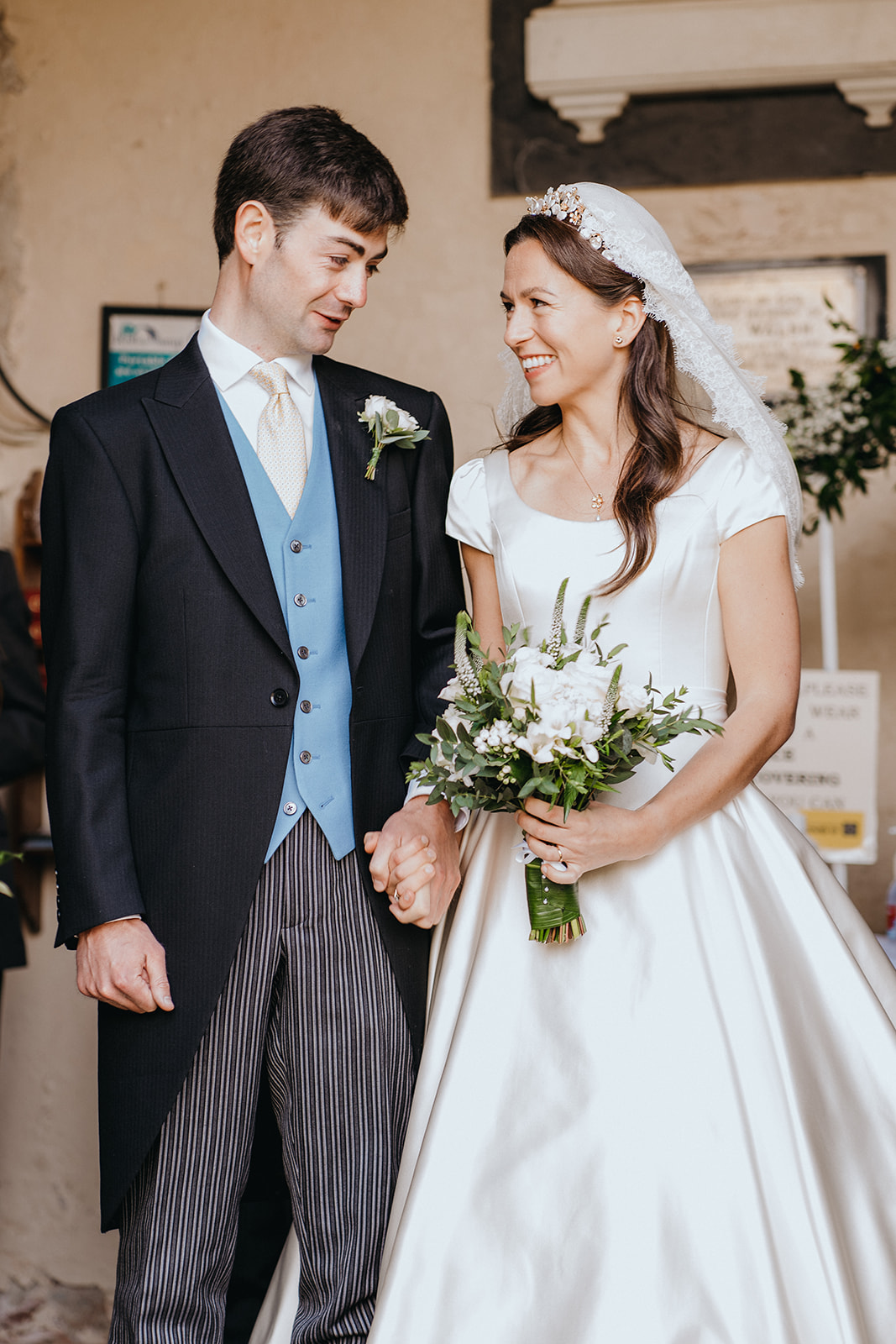 Poppy loved the way in which the dress was created from start to finish around her proportions."As a 5'3 girl many 'off the peg' wedding dresses that I tried were made for 5'8  – the proportions were all wrong. 3/4 length sleeves were coming up as full length sleeves! The team at Phillipa Lepley are experts, they have excellent knowledge of how to make the perfect dress. I really trusted and valued their opinion."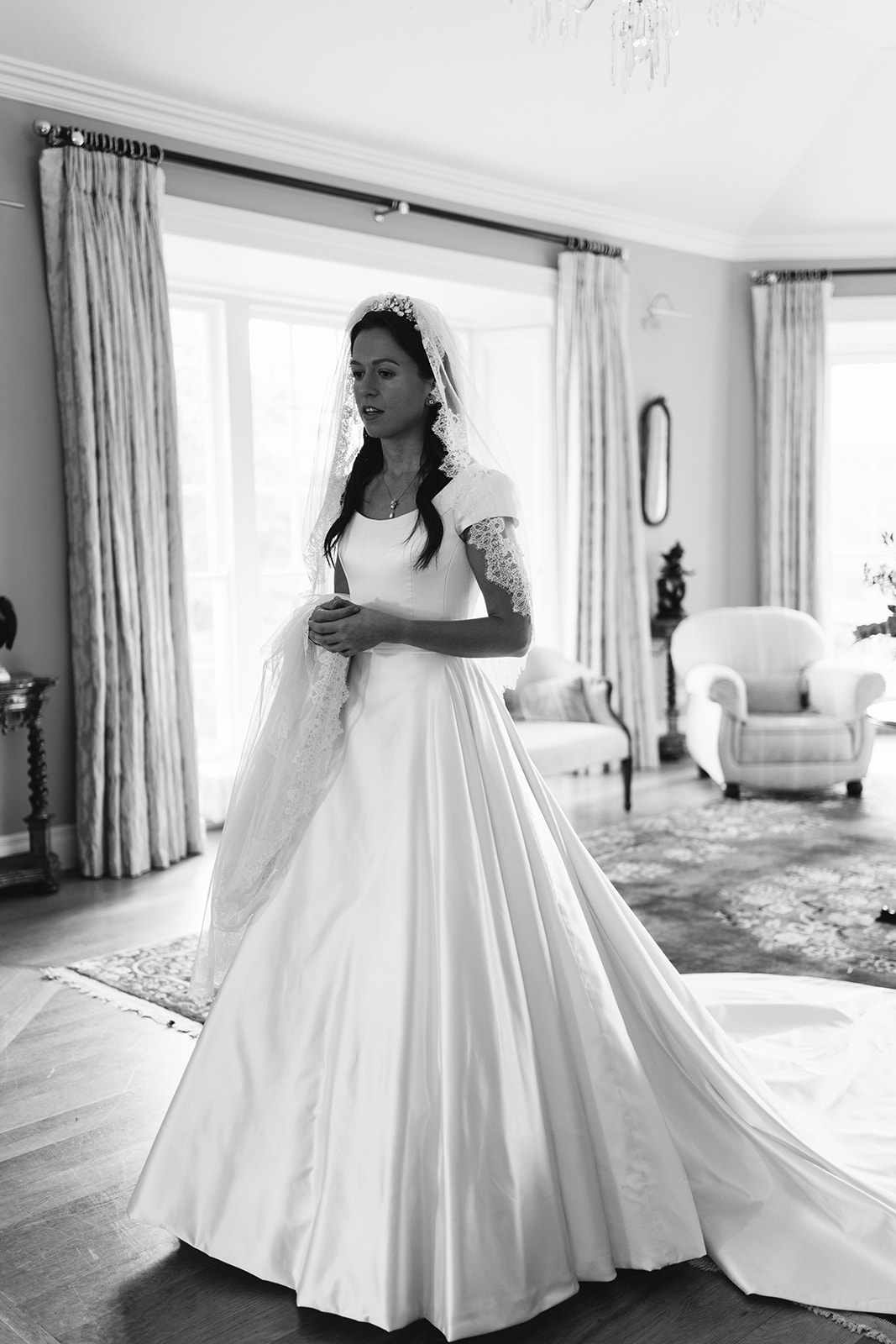 Poppy's corseted duchess satin dress featured a full A line skirt that flared from her defined waist into a dramatic long train. The softly scooped neckline and straps of the bodice framed her perfectly, finished with a feminine gathered sleeve that just cupped over her shoulder and top of her arm.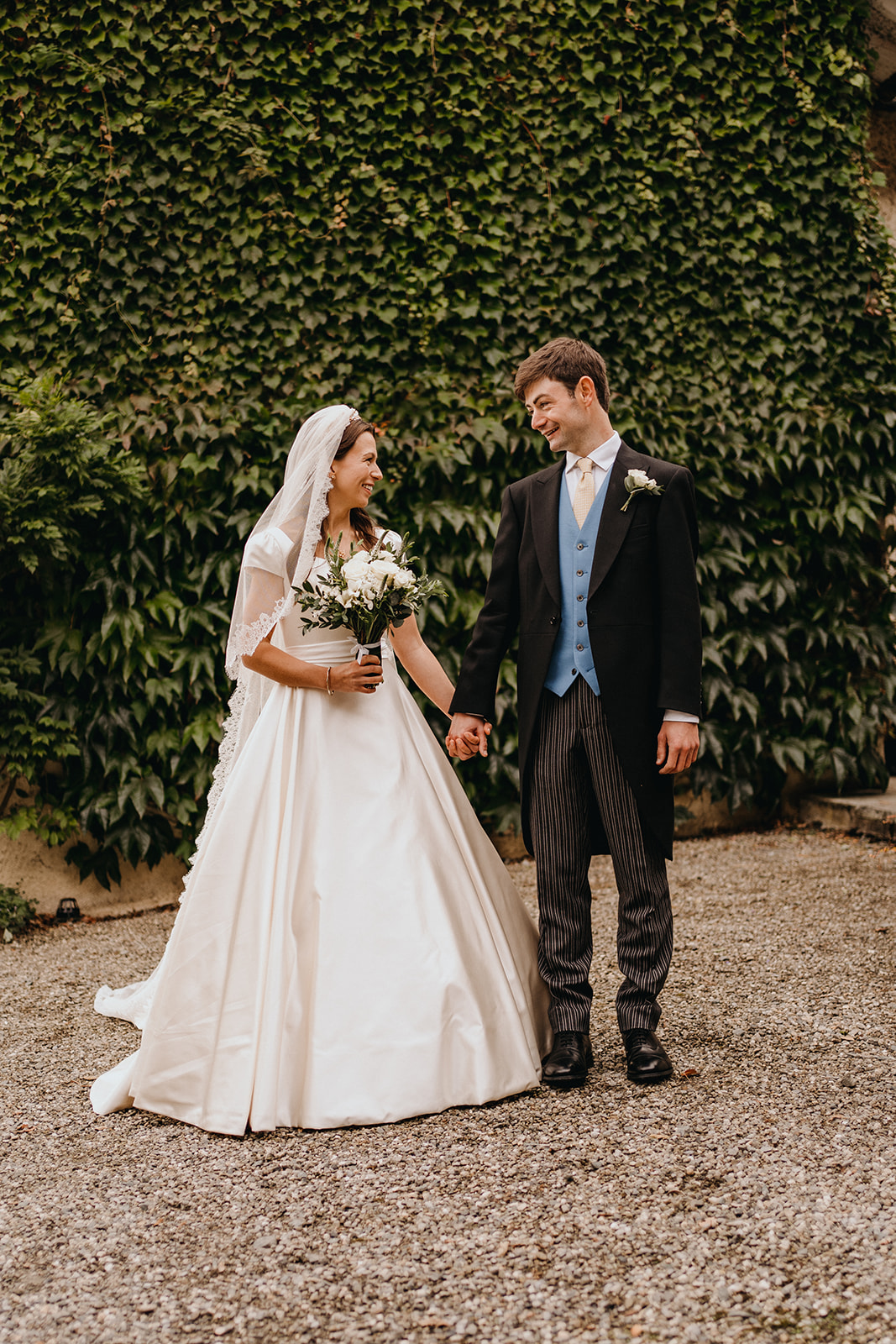 Poppy chose accessories that brought a fresh, feminine touch to her dress – a gorgeous ivory silk sash wrapped around the waist and hand tied into a bow with flowing tails, and a classically elegant silk tulle, two tier veil, edged with a fine French corded lace. The specific lace was carefully selected for its narrow and light detailing to compliment Poppy's petite frame.
An utterly bridal, timelessly beautiful look.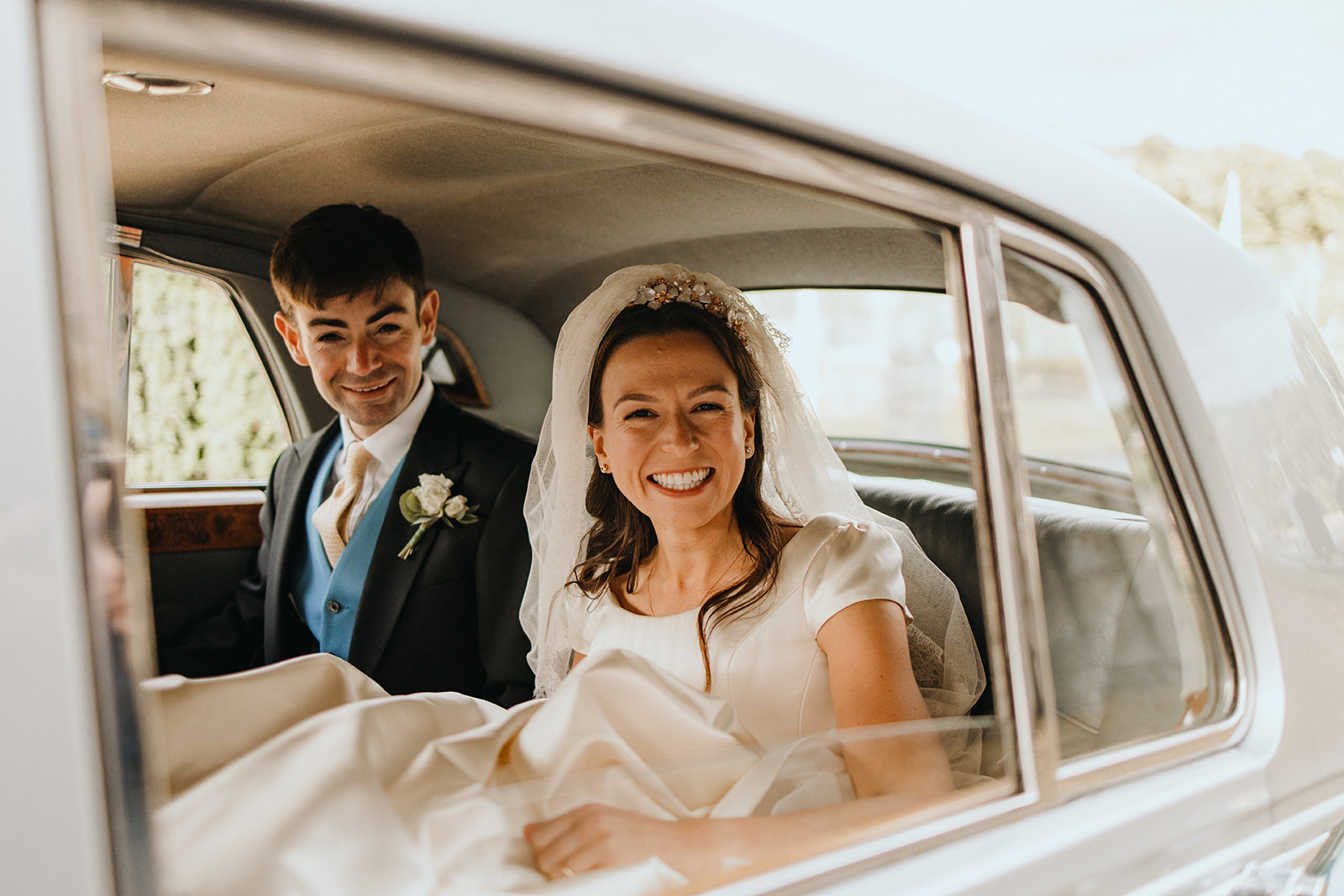 Due to Covid19 Poppy's wedding was pushed back from June to October. Throughout lockdown the team were in constant communication with her, and as soon as the shop re-opened and her new wedding date was set her final appointments were rescheduled.
"The team finished off the dress as soon as they could so that we could bring it back to Ireland before any more restrictions were impose.  They did everything to accommodate us traveling from Ireland."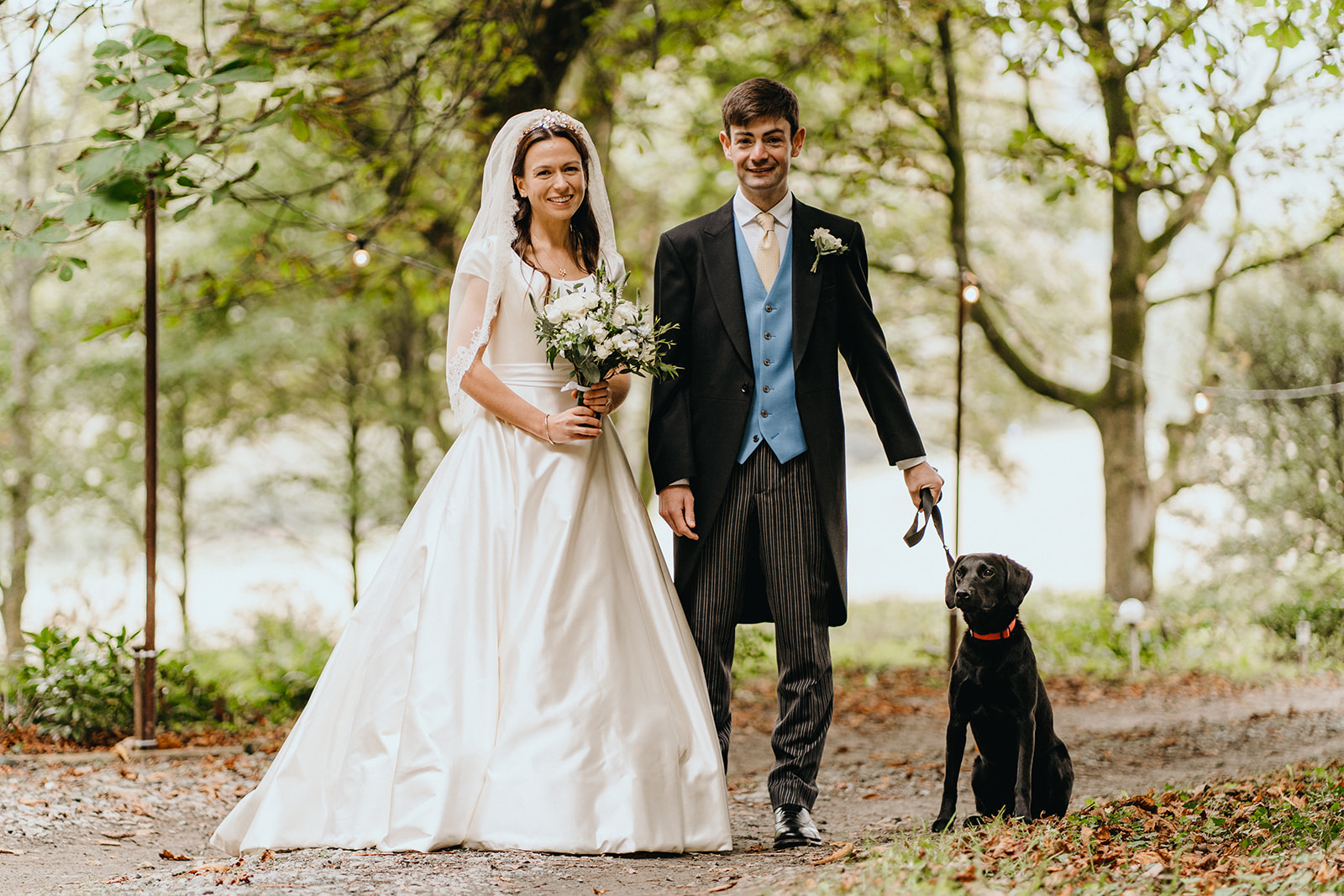 On the wedding day Poppy says she felt "Magical! It was just perfect. Friends said I looked like a Disney princess. My husband said it was the most beautiful dress he had ever seen and that it was definitely worth the trips to London."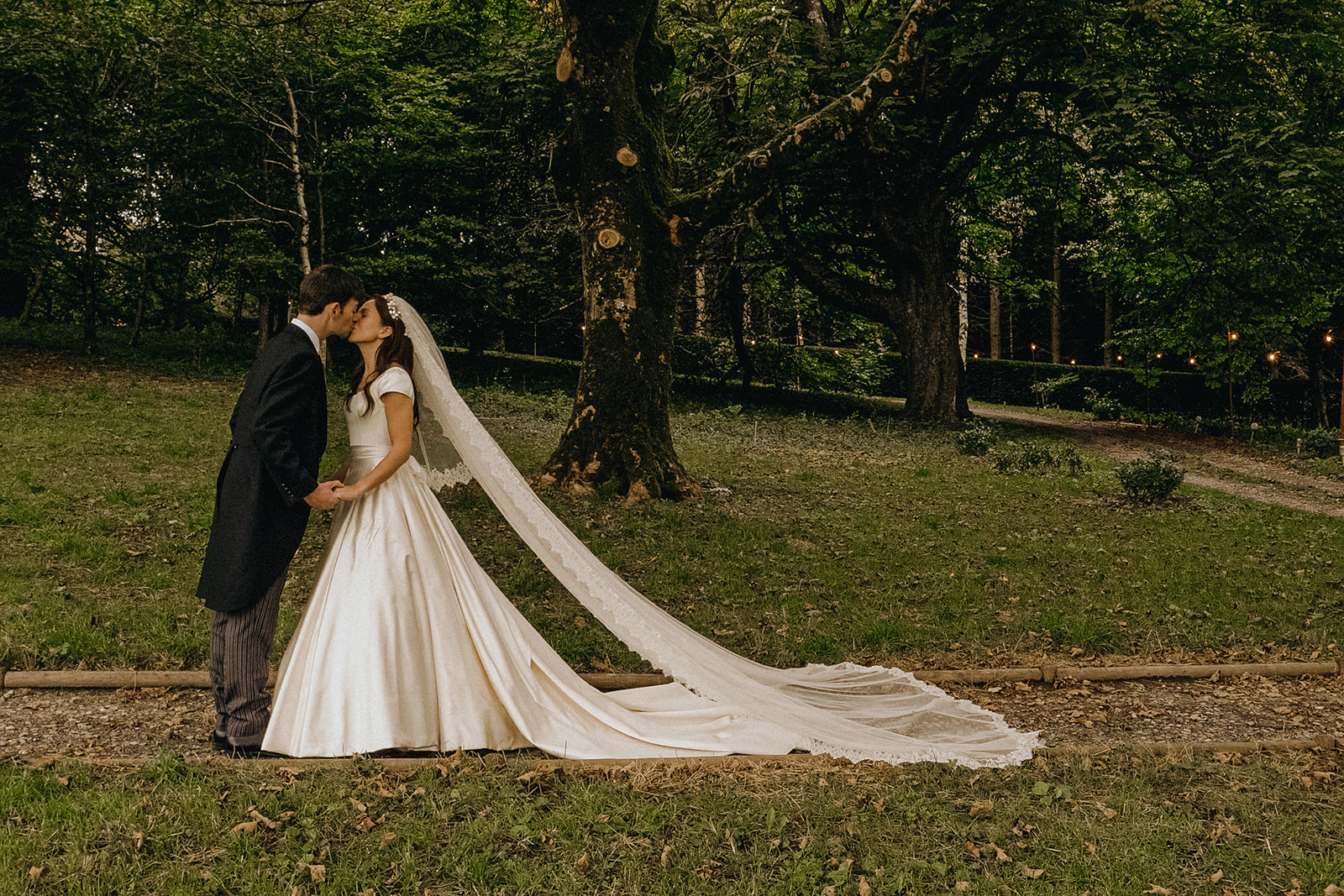 Poppy describes vivid memories from the day, from the church bells ringing to her walking down the aisle with her veil over her face. Her father lifting her veil, and finally being beside Henry (the groom). "I couldn't believe it was finally happening! There was so much uncertainty with Covid restrictions, so I didn't really believe it was happening until we were in the church. Signing the register and looking down on a sea of masked friends and family in the pews was very surreal. Our friends and family were outside throwing rose petal confetti on us as we left the church."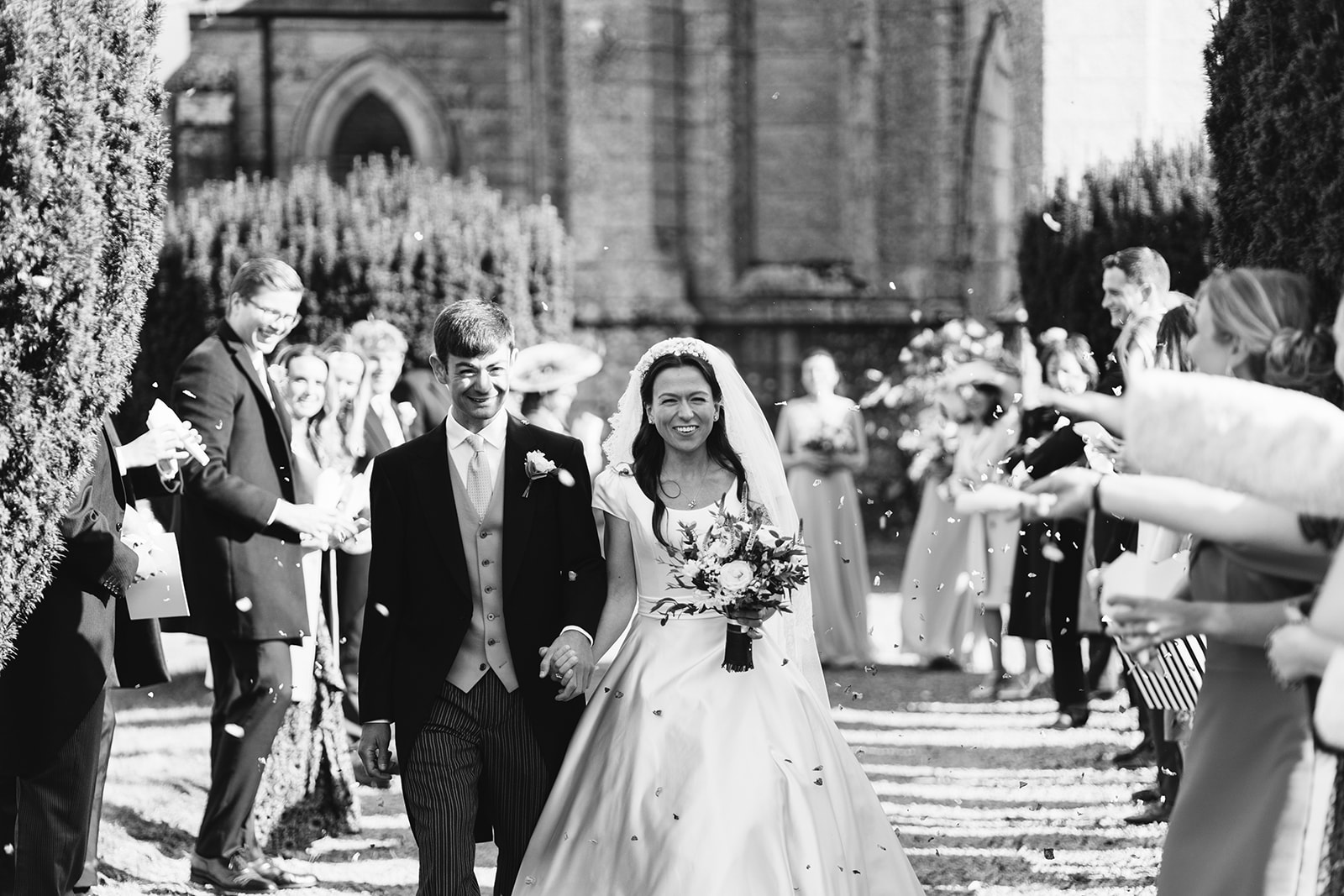 Poppy shares her advice for brides planning weddings now:
"Try on lots of different styles. When I started searching for my dress I thought I wanted a lace wedding dress, but in the end lace didn't really suit me. I ended up with something completely different, which I loved."
"For me, having a bespoke dress made for me was exactly the right thing to do. It doesn't matter what size or shape you are – if it fits you correctly you will look amazing."
Phillipa Lepley is widely recognised as being the leading British couture wedding dress designer. Her wedding dress shop in London, Chelsea, has over 50 dresses, all of which have been made in England from start to finish at her atelier.