REAL BRIDE: THE STORY OF A BESPOKE FAIRYTALE WEDDING DRESS
"Phillipa's boutique had a magical feeling to it. The whole environment was peaceful and fairytale-esque. It felt very exciting." Sarah
When Sarah walked into the London boutique of wedding dress designer Phillipa Lepley with her Mum, she tells us that "we both had this instant magical feeling. At that very moment, I felt sure I would find something wonderful. Not only were the dresses stunning, but the whole environment so peaceful and fairytale-esque. It all felt very exciting."
Sarah's friends recommended Phillipa Lepley among a list of UK wedding dress designers to visit. "I had heard wonderful things about Phillipa Lepley. I did a bit of reading and I loved the idea of wearing a dress from a British designer, especially one who seemed so passionate about the materials and laces (I'm a very 'feels' person)."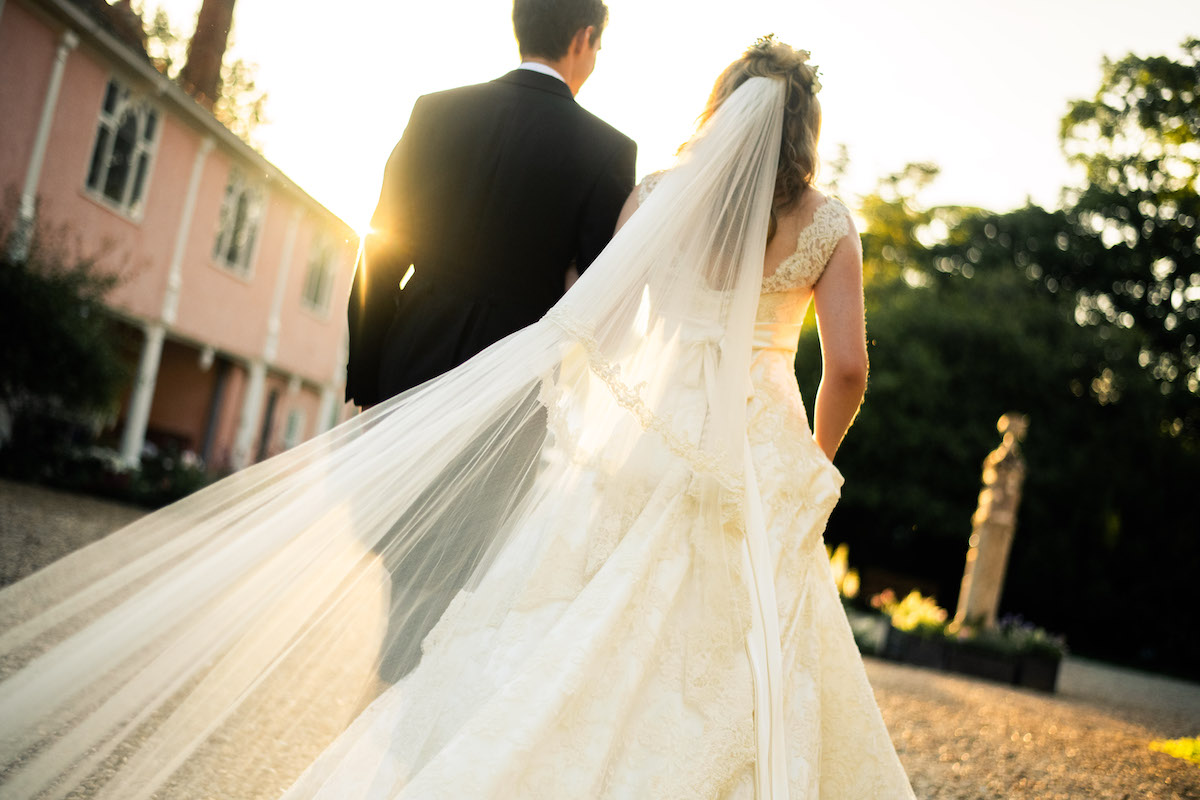 Sarah tried on various dresses with the help of our expert shop team. "The first dress was beautiful, but the third dress was the unexpected one; my mum and I both burst into tears. I also tried on a full length veil (to get into full wedding mood!), and there was something completely magical in that moment. That was the first dress that made me really feel like I was going to get married, so I knew it had to be 'the one'!"
Sarah had a bespoke, corseted dress of duchess satin and French corded lace made by Phillipa Lepley and her atelier team. Every detail was designed with Sarah through her initial appointments and developed through her fittings. The bespoke changes included creating a slightly deeper sweetheart neckline and adding wide, sheer lace straps to the original strapless design that Sarah tried on.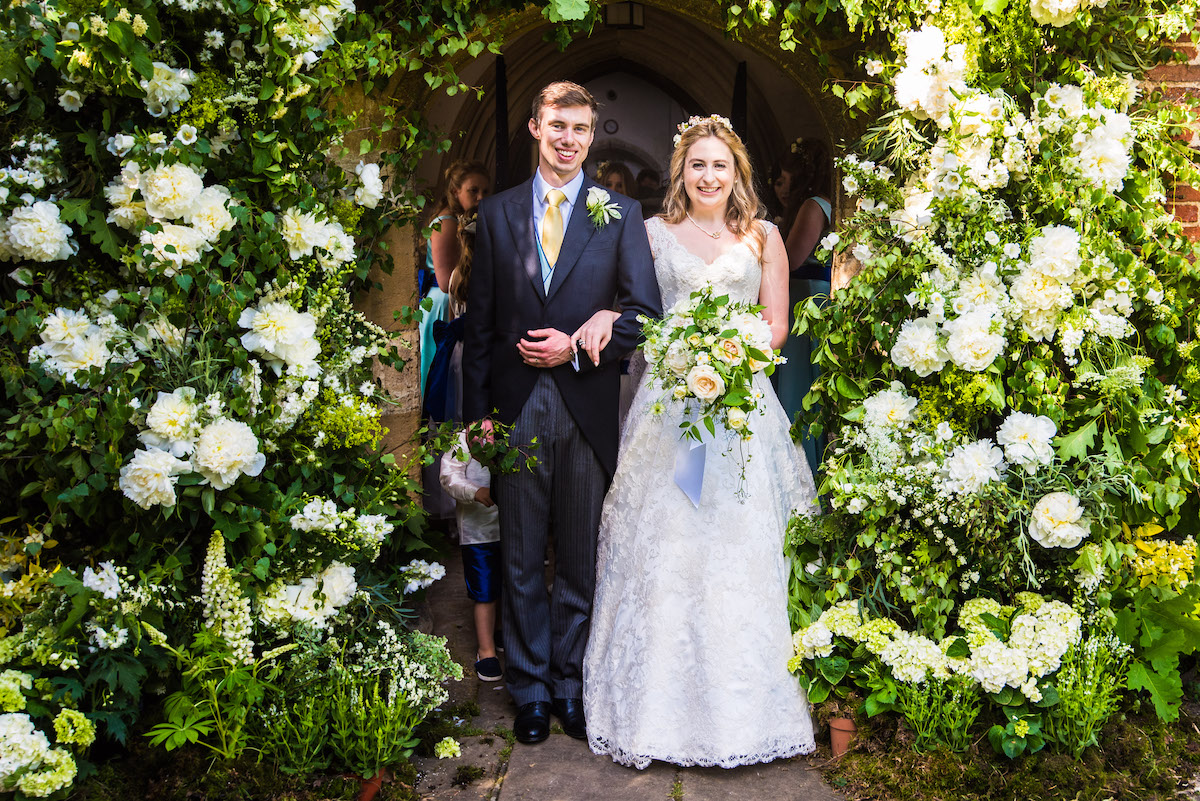 "I've also always had a love affair with ribbons and bows (I used to collect them as a child), and so I had an idea that I'd love for that to feature somehow in the dress. With the help of Phillipa and her team, and by creating a bespoke gown anything was possible."
Based on Sarah's love of bows, Phillipa designed a soft, slipper satin bow and tails for the back of the dress – an extra personal touch to her bespoke gown.
The French 'scroll' lace of Sarah's wedding dress was moulded to her body; her feminine silhouette defined by her Phillipa Lepley corset. The skilled atelier team meticulously appliquéd the lace together, creating a seamless finish to the dress.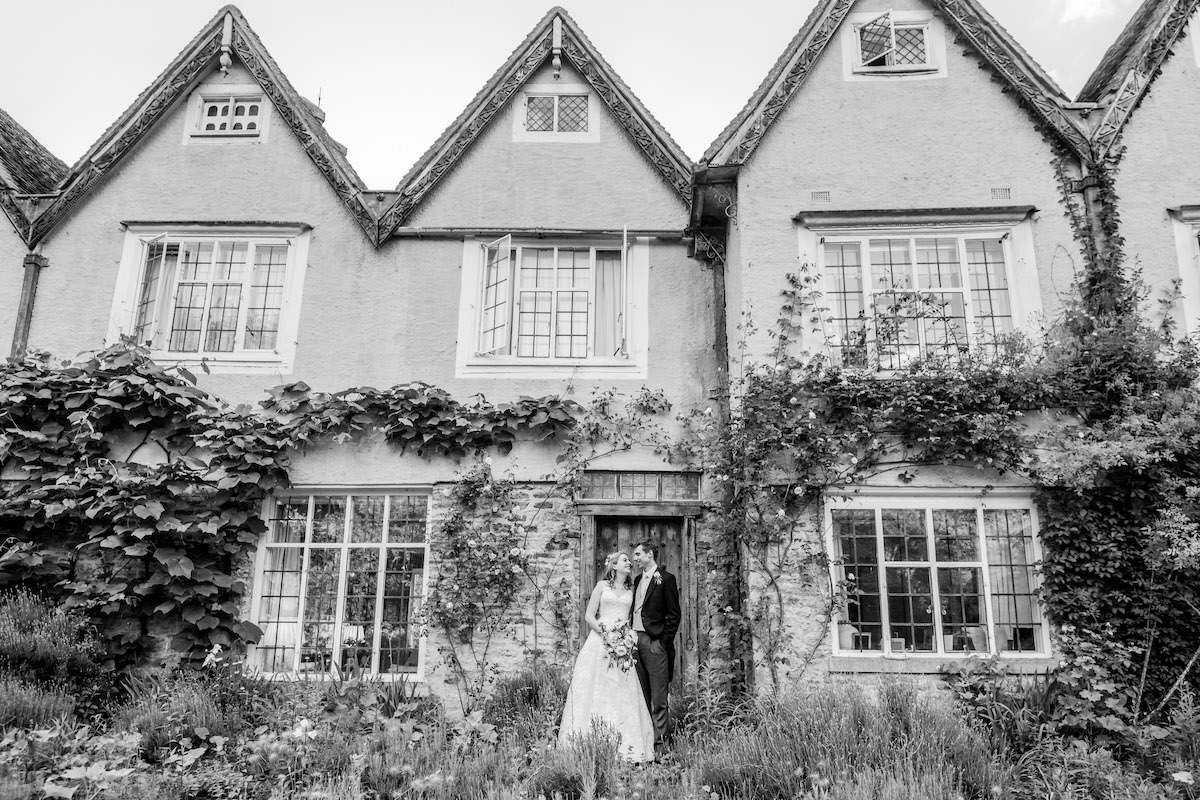 The embellishment team worked closely with Sarah on the hand beading on her dress and veil – developing swatches of the pearl, crystal and clear beading for her to approve throughout her fittings. The beading was  thoughtfully positioned through the front neckline and straps of the dress – lighter at the sheer areas of lace to show the intricate detail of the 'scroll' lace pattern against Sarah's skin.
Sarah tells us: "I met Hannah, who would be in charge of embellishments for the dress, and I couldn't believe how detailed and perfect her work was. I understood at this moment how every dress for Phillipa is the work of hundreds of hours, bringing together all the talents and crafts within her team."
Sarah's bespoke silk tulle veil was edged with a complimenting lace scallop and the blusher hand beaded in our Chelsea atelier with pearls, crystal and clear beads. Phillipa Lepley is renowned for creating bespoke, personal silk tulle veils – truly special pieces that can be kept, loved and passed through generations as an heirloom.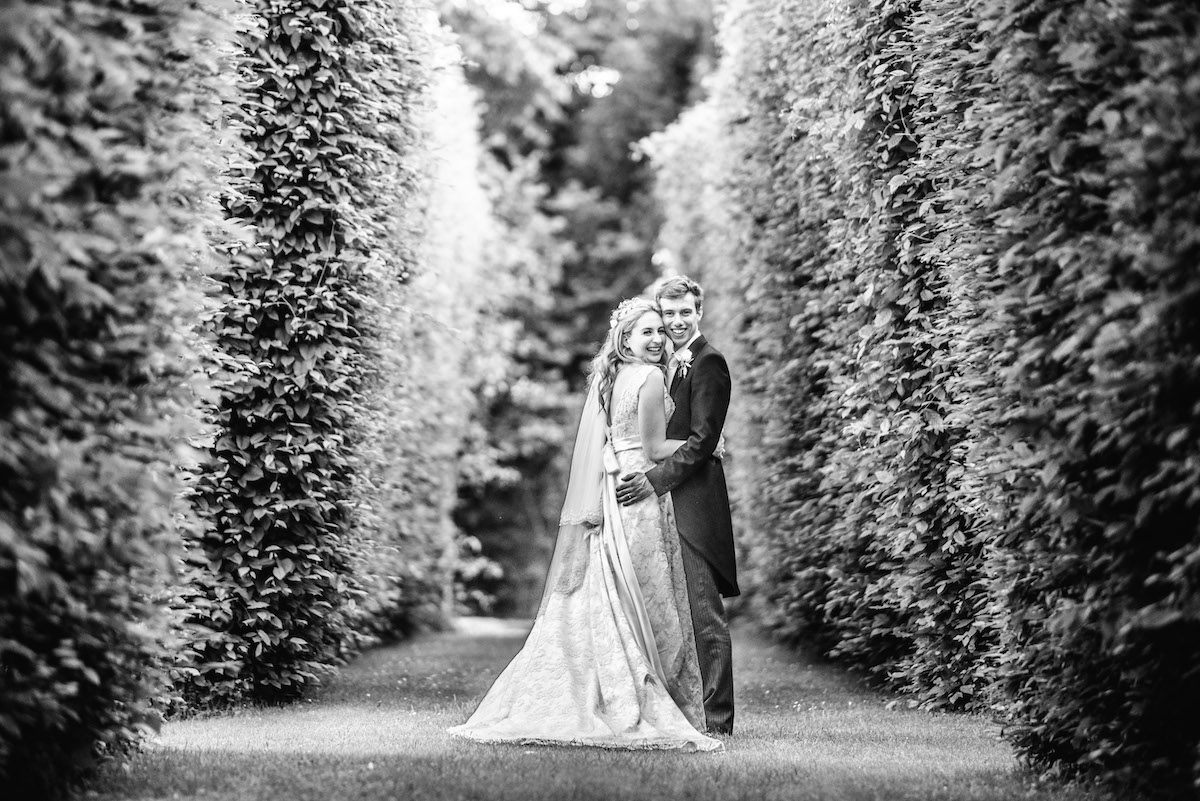 "Going to the Phillipa Lepley wedding dress boutique for my fittings was a perfect haven of calm, fairy tales and luxury treatment. There is lots of room to walk around in privacy in the downstairs fitting room. It is cool, surrounded by full length mirrors, and shelves of shoes, belts, accessories, and hair pieces:- a treasure trove of inspiration," recalls Sarah.
"Working with the team was wonderful; Laura oversaw the whole experience and was with us for every fitting. During the process I also met Hannah (design and embellishment), Lisa (fittings), and also Phillipa herself. Everyone was so friendly, helpful and genuinely excited for my experience. I didn't want the experience to end."
While the journey with Phillipa Lepley and her team might end at the last appointment, for our brides this is where the exciting bit starts; their wedding day.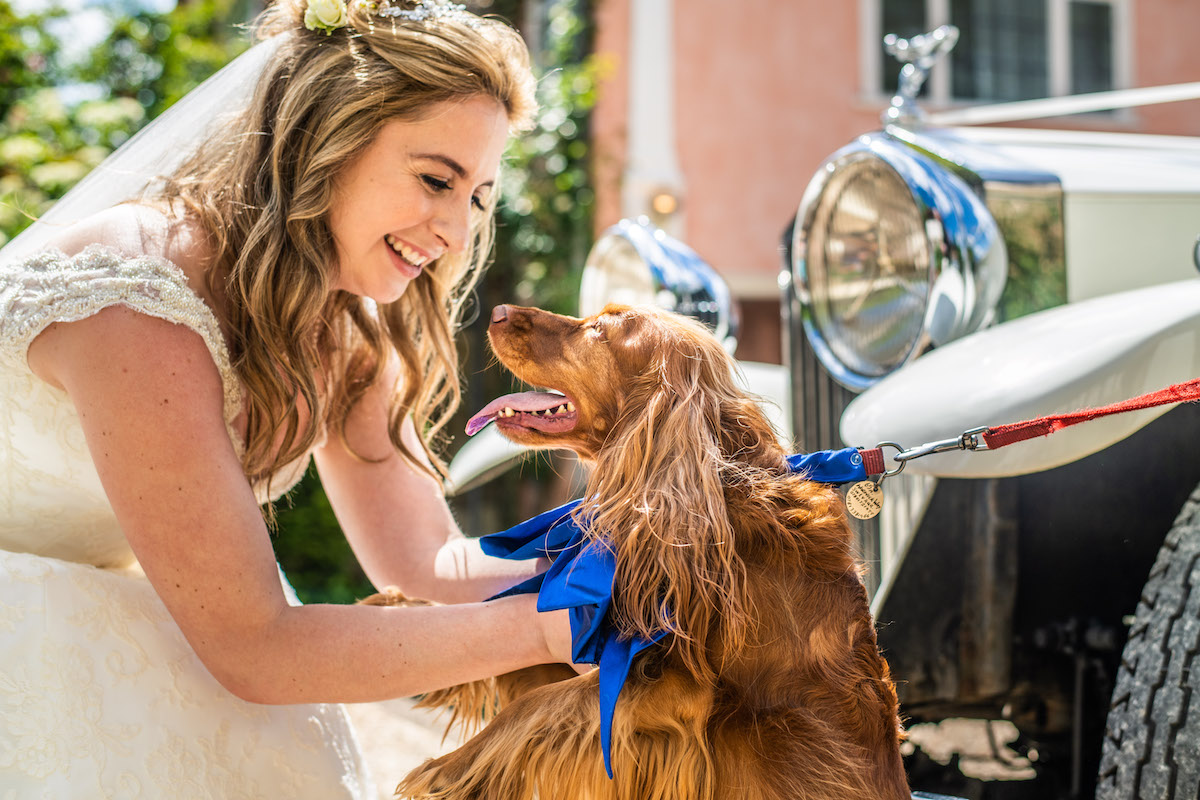 "Putting on my wedding dress on the day made the moment very real; my heart fluttered as I realised today was our wedding day. My Godmother Linda and one of my Best Girls Amy helped me into my dress, and tied my corset, which is a long lasting and lovely memory of mine."
"My husband Peter told me on our wedding day and still tells me today that my Phillipa Lepley wedding dress is his favourite dress of mine. I remember that he had a huge smile, slightly tearful eyes, and he let out a choked little laugh, when he saw Dad coming down the aisle with me on one arm, and our spaniel 'Islay', with a big bow, under Dad's other."
Luckily Islay didn't steal the show that day, as Sarah recounts that Peter told her "I took his breathe away."
Phillipa Lepley is widely recognised as being the leading British couture wedding dress designer. Her wedding dress shop in London, Chelsea, has over 50 dresses all of which have been made in England from start to finish at her atelier.