COUTURE WEDDING DRESS: SWAN CHIFFON
"This truly stunning couture wedding dress is created from the finest chiffon in the world resulting in a positively regal, fairytale look." – Phillipa Lepley.
This elegant Phillipa Lepley couture wedding dress is created from the most beautiful chiffon drape. The dress is simple yet bold, with an unusual front seam that creates thin layers of fabric to cluster together on either side. The delicate gathers of fabric draw the eye to the centre of the dress and help to give the illusion of a tiny waist.
The bride's collar bones are perfectly accentuated when wearing this dress, resulting in a slightly flirtatious yet ever-demure effect, because of the precisely positioned low straps that sit off the shoulders. Held in place as if by magic, the straps go over the upper arm and frame the neck and each shoulder, adding grace and poise.
The back of the dress is gracefully held together with dainty covered buttons and fabric loops that extend from the top of the dress down to the waistline.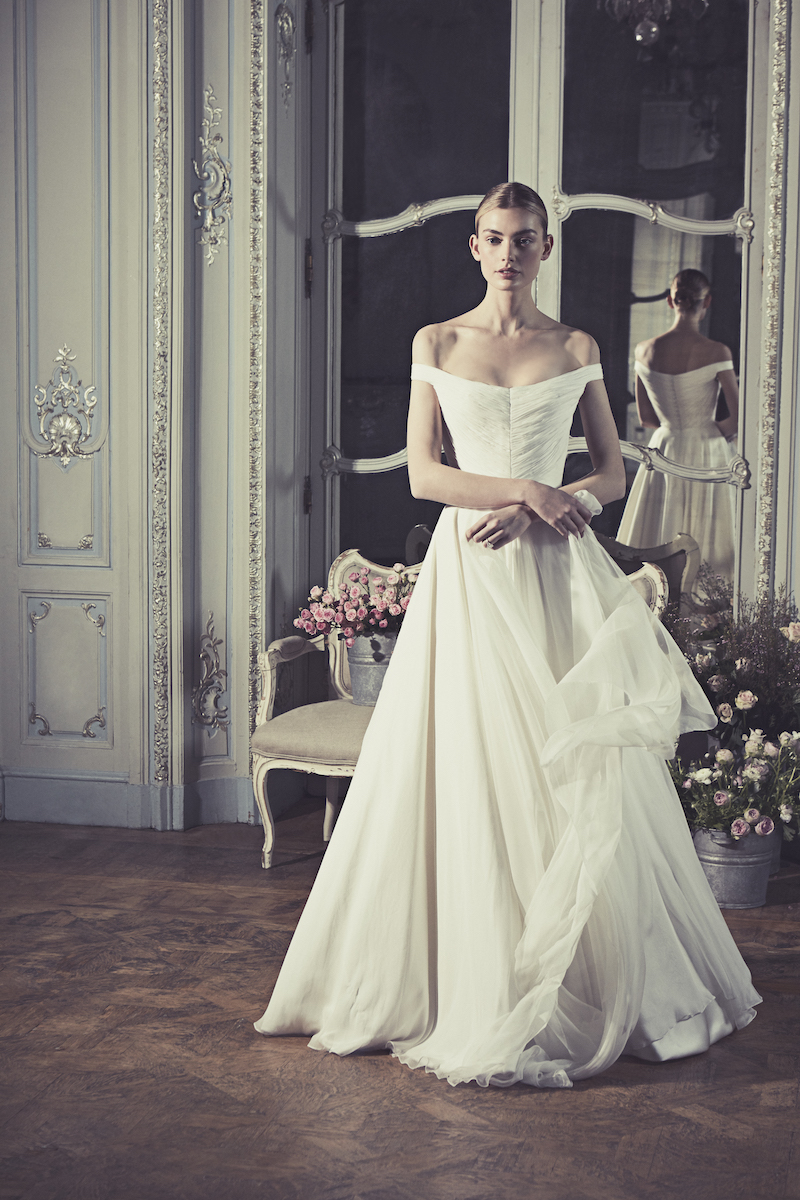 The creative process that goes in to the making of this dress is very complex and requires advanced seamstress techniques – intricate and detailed stitching is required to ensure the draped chiffon does not lose its fluidity and movement.
"What I am most proud of when I look at this design is how we have made chiffon skirt from one piece of fabric, expertly draped so that it goes all the way round from the front of the dress to the back with no seams showing. What is hidden from the eye is that the front of the skirt opens up into the slipper satin skirt underneath. There is no side seam, so the skirt swishes around beneath the waist with mesmerising movement with every step the bride takes.'
Phillipa Lepley is widely recognised as being the leading British couture wedding dress designer. Her wedding dress shop in London, Chelsea, has over 50 dresses, all of which have been made in England from start to finish at her atelier.