COUTURE WEDDING DRESS: THOMASINA MAGNOLIA JASMINE
Specifically designed and hand embroidered – creating an unrivalled, unique beauty.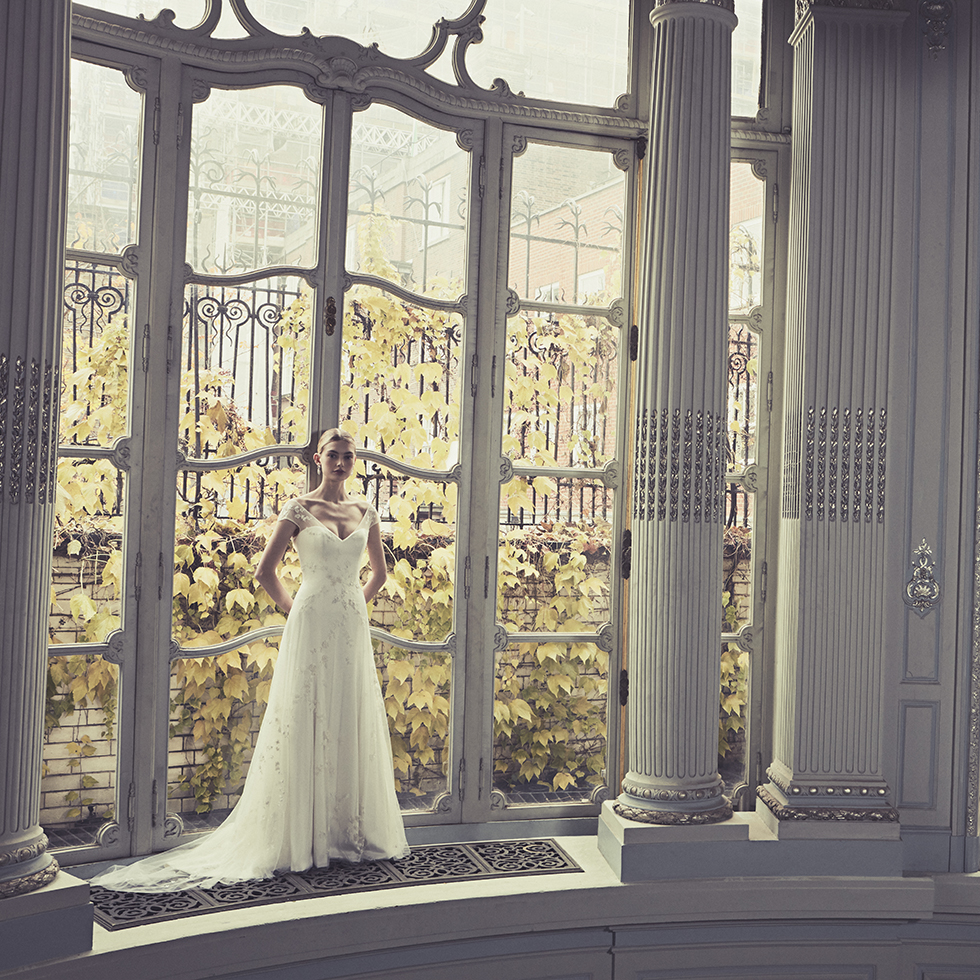 Thomasina Magnolia Jasmine is a sublimely fluid gown with delicate hand embroidery dancing over its slimmer silhouette. It is a romantic, whimsical choice for the bride who is looking for a lighter feel to her dress whilst maintaining the finite detail and timeless beauty that Phillipa Lepley is renowned for.
The fitted A line silhouette of this dress gently follows the curves of the body before flowing to a softly rippling hem. The waist is defined with Phillipa Lepley's iconic hidden corsetry, and a sweetheart neckline creates an open, feminine outline.
The intricately hand embroidered tulle overlay of the dress has been cut fuller than its slipper satin base, giving fluidity and movement to the design. Sheer tulle straps follow the bodice neckline, finishing out on the very edge of the shoulder. This décolleté V neckline is so flattering and provides perfect balance to the corseted waist and flowing skirt.
Every design is created in house, inspired and guided by Phillipa's passion for hand embroidery and love of flowers.
Phillipa says "This collection we've focused on lighter all-over embroideries, compared to the heavier ones in our last collection. The feeling is fresh and youthful – filled with meticulously placed designs of dancing flowers! I love the pretty, detailed Magnolia and Jasmine flower choices in this dress – so feminine and timeless."
For this dress, Magnolia and Jasmine flowers and wandering vines have been depicted using a combination of incredibly intricate couture techniques. French knots and satin stitch have been highlighted with ivory seed pearls and bugle beads creating a subtle lustre to the dress.
The graceful, organic path this embroidery weaves across this dress is the perfect example of the considered way in which each Phillipa Lepley dress is designed – creating an unrivalled, unique beauty.
For this collection shoot at Savile Club in Mayfair, London, Phillipa styled Thomasina Magnolia Jasmine with the decadently hand embroidered, two tier, cathedral length Grand Frothy Flowers silk tulle veil. A veil of this grandeur means the overall look will be perfectly placed in any venue.
Phillipa Lepley is widely recognised as being the leading British couture wedding dress designer. Her wedding dress shop in London, Chelsea, has over 50 dresses all of which have been made in England from start to finish at her atelier.